Gorgeous New Kitchen Cabinets for your East Meadow, NY, Home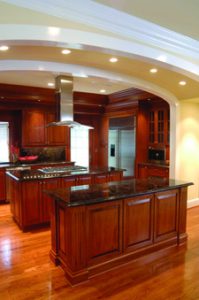 If the kitchen cabinets in your East Meadow, New York, home are in need of a change and you are thinking about remodeling the room, the team at Alure Home Improvements can help. Our highly trained kitchen remodelers have extensive experience helping local homeowners design gorgeous new kitchens that not only look great but also have the practical features needed. Whether your cabinets are simply outdated and could use a facelift or you want to change the layout of the room to create more storage space with additional kitchen cabinets, we can help.
Choosing the right kitchen cabinets for your home is a big decision. After all, the cabinetry is one of the defining features of any kitchen and often the first thing someone notices when they first enter the room. At Alure Home Improvements, we offer a variety of different cabinet options in order to accommodate the unique aesthetic preferences of each homeowner who turns to us. The kitchen cabinets we install in East Meadow, NY, are customizable in terms of:
Finish
Size
Hardware options
Door Style
Mountings
Materials
Of course, installing new kitchen cabinets is just one piece of any kitchen remodel. To help you get the most out of your living space and enjoy a kitchen that fully meets your needs, our team is here for you. In addition to installing the kitchen cabinets you've always wanted, we can also improve the lighting, optimize the floor plan, install new countertops and flooring, add additional seating space or island, upgrade your storage, and make the other changes that you need.
To learn more about the various kitchen cabinets that we offer, as well as the many benefits to our remodeling service, stop by our three-story showroom in East Meadow, NY, and speak with a member of our team. We'll happily walk you through your options and help you design the kitchen you've always wanted.
Alure Online
Specials
View A Complete List Of Our Specials
Some restrictions apply, click the button below for more details.