Kitchen Backsplash Materials Installed in Suffolk County, NY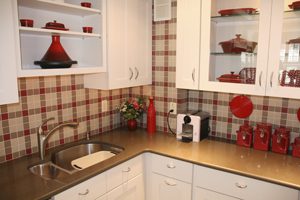 At Alure Home Improvements, we specialize in kitchen remodeling in Suffolk County, NY, which means we have all sorts of different kitchen backsplash options to consider for your home. Rather than taking a one-size-fits-all approach to kitchen remodeling, we work very hard to make the entire process as personalized as possible. Your kitchen is undoubtedly the center piece of your home, and it stands to reason that you want this essential room to look its very best. Our team is here to help. Whether you just moved into your home and the kitchen is in desperate need of a remodel or you're exploring ways to breathe new life into your kitchen, we've got you covered. With many different kitchen backsplash options, as well as all of the design features you could ever want, your remodeled kitchen will look better than ever before.
If you're thinking about remodeling your kitchen, it would be reasonable to feel a little bit overwhelmed. With so many different options to consider, it can be hard to know where to start. Plus, just because a kitchen backsplash looks good in a store, doesn't mean it will work in your home. And how can you be sure that all of the design components will work together? The kitchen backsplash might be really attractive, but if it doesn't complement your countertops, cabinets, paint, flooring and other kitchen features, it isn't right for your home. At Alure Home Improvements, our dedicated kitchen remodelers have extensive firsthand experience designing kitchens that look fantastic and have the features that homeowners require.
When it comes to our selection of kitchen backsplash options, we offer many different:
Styles of backsplash ranging from mosaic tile to classic subway tile patterns
Colors to complement kitchens of any type
Tile sizes to accommodate your backsplash area
To learn more about the kitchen remodeling service that we offer in Suffolk County, NY, as well as the many different types of kitchen backsplash that we offer, contact us today. We'll be happy to help you create the kitchen you've always wanted for your home.
FREE Stainless Steel Bosche Dishwasher ($750 Value) With Complete Kitchen Remodel
For a limited time only, get a FREE Bosche Dishwasher (Model #SHE3ARL5UC) with your Complete Kitchen Remodel PLUS NO money down, NO payments, NO interest for 18 Months* - Act now! *SUBJECT TO CREDIT APPROVAL. Offers are for the stated time period only and may not be combined with any other offers, promotions or discounts. Some restrictions apply. Offer not applicable in all counties due to Consumer Affairs Restrictions. Offer not applicable in or to residents of New York City.