Upgrade the Kitchen Backsplash in Your Nassau County, NY, Home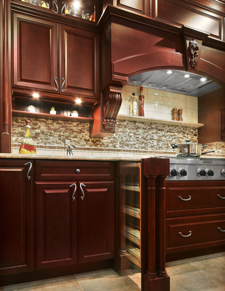 Choosing the right kitchen backsplash for your Nassau County, NY, home is an essential component of any kitchen remodeling project. To help you sort through your options and select the ideal backsplash, the team at Alure Home Improvements is at your disposal. Our dedicated kitchen remodelers have extensive experience designing kitchens of all different styles and we will gladly walk you through your many options to design a kitchen that looks great and exudes your personal sense of style.
One of the advantages to the kitchen remodeling service that we offer in Nassau County, NY, is we have Certified Kitchen Designers on staff. These professionals have extensive experience and have demonstrated their mastery of kitchen design principals to earn this designation. What this means for you is when you visit Alure Home Improvements, you'll have the opportunity to work with professionals who are the best in the business. We can work closely with you to design a kitchen that has the practical features you want and also the design accents – like a gorgeous kitchen backsplash – that will truly set your kitchen apart from other homes in the area.
To accommodate your specific needs and wants, we have many different kitchen backsplash options to consider including backsplashes in many different:
Colors
Patterns
Sizes
Materials
Of course, there's more to a kitchen remodel than just the kitchen backsplash and at Alure Home Improvements we can handle every aspect of the renovation from start to finish. No project is too big or complex for our team. Whether you want to knock down walls or simply give the room a facelift, we have you covered.
For more information about the kitchen backsplash selection we have available in Nassau County, and to learn about our kitchen remodeling service, contact us today.
Alure Online
Specials
View A Complete List Of Our Specials
Some restrictions apply, click the button below for more details.