Fun Ways to Treat Yourself with Your New Kitchen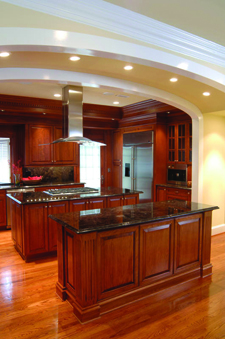 At the end of the day, kitchen remodeling ought to be fun and present an opportunity to express yourself. You're clearly making a change to your kitchen for a reason. Yet, all too often, homeowners have a habit of picking their so-called "dream" kitchens out of catalogues and online photos, and in the process, they lose sight of what's actually important to them in the kitchen. Instead, ask yourself how you actually use your kitchen? What is important in the room and what isn't? Above all else, you want to make sure that your newly remodeled kitchen meets your needs and has the fun features that you require to make sure that you love your new room. That's what it's all about. And when you consider how much time you probably spend in the kitchen, it stands to reason that you're going to want to make it your own.
So let's start by thinking about how you use your kitchen. Are you one of those people who fancy themselves as burgeoning chefs? If so, why not create a kitchen that lets you explore your culinary chops? For instance, there is this thing that space planners always talk about in the kitchen called the work triangle. Without digging into the nitty gritty, this is the space between the three major areas that any good cook needs in their kitchen: food prep, storage, and cleanup. In other words, it makes sense to make sure that your fridge, stove, and sink are all within reasonable arms length to make cooking more efficient and easy.
On the other hand, are you more the type who uses the kitchen to entertain guests? If that's the case, perhaps you should think about how you can make your kitchen more social and inviting. Installing an island, for example, is a great option because it gives you a place to set out hors d'oeuvres and drinks when you've got a houseful of company. A conveniently located wine rack or bar is another obvious option.
The point is to not get lost in by-the-books kitchen remodeling. Take the time to figure out how you use your kitchen and design accordingly. Sure, it might take a little extra work, but the long-term benefits will speak for themselves when you're enjoying your dream kitchen.
To learn more about how the team at Alure Home Improvements can help you design a kitchen that is tailored to your needs, contact us today.
Alure Online
Specials
View A Complete List Of Our Specials
Some restrictions apply, click the button below for more details.