Five of the Most Common Kitchen Remodeling Mistakes in Long Island Homes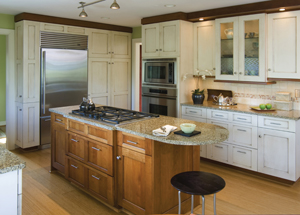 If you're considering remodeling the kitchen of your home, you'd do well to spend time researching all of your options in order to make sure that you avoid the most common mistakes that people tend to make when embarking on this project. This exercise isn't meant to scare you out of renovating your kitchen, far from it, but rather to give you an idea of what you should look out for when you're designing your dream kitchen. A little forethought can make all of the difference both in the long- and short-term.
So without further ado, here are five tips to avoid common mistakes that can sometimes be made when remodeling the kitchen:
Think practically, While you obviously want your kitchen to look great, you also should try to select materials that are durable and easy to keep clean. A wood countertop, for example, might be attractive but it can become scuffed and stained over the years where a stainless steel countertop is practically indestructible.
Be wary of fads, As an interior designer can tell you, there are all sorts of popular, trendy ways to design your kitchen but if you don't want to make remodeling a habit, you'd do well to put a premium on styles that are timeless and traditional, ensuring they are less likely to show their age as time wears on.
Plan ahead, You might not have a huge family right now, but it always makes sense to plan ahead and ensure that your kitchen is equipped to accommodate a few extra place settings or even a large dinner party. After all, you can never have too much storage and dining space.
Pay attention to the layout, In addition to designing a kitchen that is visually appealing, you also want to think about how the kitchen can best be laid out for cooking. For instance, you'll want to make sure that the food prep area is in close proximity to your cooking area, and the place where you store food and ingredients should be readily available as well.
Work with the professionals, Kitchen remodeling is a big job that can entail interior design, space planning, electrical work, plumbing, tiling, and a number of other components. It makes sense that you put your faith in the best of the best who can handle your job professionally and to your standards.
If you are interested in learning more about kitchen remodeling in Long Island and you want to make sure that you avoid these and other mistakes, contact Alure Home Improvements today and speak with one of our extremely knowledgeable associates.
Alure Online
Specials
View A Complete List Of Our Specials
Some restrictions apply, click the button below for more details.