Tub to Shower Conversion in Suffolk County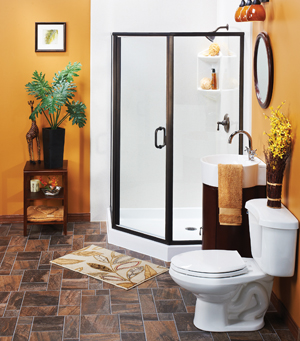 The tub to shower conversion service that we offer in Suffolk County at Alure Home Improvements is a sensible option if you are interested in transforming your little-used bathtub into a luxurious shower. We proudly offer a variety of customizable showers that are extremely attractive, highly resilient, and safe to use.
As a full-service home remodeling company, we pride ourselves on our ability to handle home renovations of all types. Our tub to shower conversion service, for example, might be a compelling option if you are tired of struggling to keep your tub clean, and you want to put in a large, gorgeous shower that better fits in your bathroom. Alternatively, many homeowners also turn to this service for safety reasons. The bathroom is one of the most common places for household accidents to occur, and the large step that is required to enter and exit a bathtub can easily lead to a devastating slip and fall. As a result, converting a tub into a shower is a way to retain bathing independence when you struggle with limited mobility.
Another advantage to installing one of our showers is that you'll have an opportunity to design a shower that complements the décor of your bathroom and also has the built-in features that you require. For instance, you'll have the opportunity to choose from several:
Base colors
Wall surrounds
Threshold heights
Fixtures
Accessories
Above all else, our team is committed to exceeding your expectations and offering the consistently high quality customer service that you deserve. When you visit our three-story showroom in East Meadow, New York, you'll have an opportunity to explore the various types of showers that we offer and learn all about the unique advantages to each of our products. Contact us today to learn more about tub to shower conversion for your Suffolk County home. We also proudly offer custom bathroom remodeling, shower liner options, bathtub liner products, and much more.
Alure Online
Specials
View A Complete List Of Our Specials
Some restrictions apply, click the button below for more details.