Upgrade the Bathroom of Your Suffolk County Home with a Tub Liner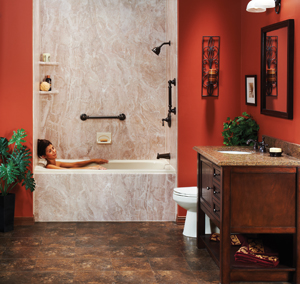 If the bathtub of your Suffolk County home has seen better days, a tub liner from Alure Home Improvements might be an excellent investment. Custom manufactured by Bathwraps to fit your tub like a glove, in only about a day our highly trained installers can completely rejuvenate your stained, cracked, or unsightly old tub. Perfect for homes of all sizes and styles, these tub liner products are a compelling alternative to completely replacing your bathtub.
Each tub liner that we offer is made from 100-percent nonporous acrylic, which offers a variety of advantages over traditional ceramic. For instance, our liners are:
Extremely durable, The acrylic tub liner is guaranteed to never crack, fade, or peel for as long as you own your home, providing peace of mind that your tub will look great for years.
Customizable, You'll have the opportunity to choose from numerous wall surrounds, base colors, and optional accessories, so that you can design the perfect liner for your home. This is an especially great option if you're remodeling your bathroom and your old tub no longer matches the new décor.
Practical, One thing that really sets acrylic tubs apart from the competition is that acrylic retains heat much better than standard ceramic. As a result, you can enjoy a hot, long bath much longer than you might have previously thought possible.
Easy to maintain, Each tub liner that we offer is protected by SilverShieldâ"¢ technology, an anti-microbial that helps prevent the growth and reproduction of mold and mildew.
If you would like to transform your old tub into something that looks brand new, contact Alure Home Improvements to learn more about the tub liner products that we feature in Suffolk County, New York, as well as our custom bathroom remodeling service. We also proudly offer several other bathroom remodeling products, including new showers, shower liner options, walk in tubs, and more.
Alure Online
Specials
View A Complete List Of Our Specials
Some restrictions apply, click the button below for more details.