Tips for Designing a Luxurious Master Bathroom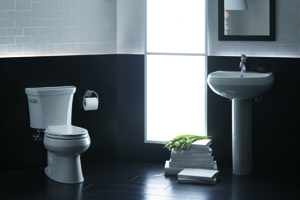 If you're thinking about remodeling the master bathroom of your home, why not go all out and design a luxurious room that you'll love for years to come? There are all sorts of ways that you can transform your tired bathroom into a gorgeous room that has the features needed to make you feel like you've been transported to your favorite spa.
It obviously goes without saying that there is no wrong or right answer when it comes to remodeling your bathroom. Each project is entirely unique based on your aesthetic preferences, expectations, and space constraints. With that said, there are all sorts of exciting ways that you can upgrade your master bathroom. Here are just a handful of ideas to consider when designing the space:
Open the room up!, While not everyone has a ton of room in their bathrooms, if you can knock down walls, implement glass into your design, install large replacement windows, or even add a skylight, you'll find that your bathroom feels larger, more inviting, brighter, and more attractive.
Prioritize the tub and shower, If you rarely, if ever, take baths, consider replacing your tired old bathtub with a large shower. Removing the hurdle of a bathtub threshold improves the safety of a bathroom, and by adding features such as dual shower heads or a soothing rain showerhead, you might get more out of your shower anyway. Alternatively, installing a Jacuzzi tub is always a popular option and can be a great place to unwind after a long day.
Find the color scheme that's right for you, Listen to an interior designer who can explain the latest trends in bathroom remodeling, including color schemes that will best exude your style and complement the décor of your room. Whether you prefer traditional, vintage, or contemporary, there are no shortage of options to consider depending on your preference.
Splurge on high-end finishing touches, While marble countertops, natural wood countertops, and quality appliances may cost a little more upfront, they'll also increase the value of your home, look fantastic, and leave you thrilled with your new bathroom. It's an investment, and one that shouldn't be taken lightly.
This might seem like a lot to process, but keep in mind that remodeling your bathroom should be exciting. To learn more about ways you can turn your master bathroom into a luxurious oasis, contact Alure Home Improvements today.
Extra 5% Savings + 50% off Install!
For a limited time only, save and extra 5% on your project PLUS 50% off Install AND NO money down, NO payments, NO interest for 18 Months* - Act now! *SUBJECT TO CREDIT APPROVAL. Offers are for the stated time period only and may not be combined with any other offers, promotions or discounts. Some restrictions apply. Offer not applicable in all counties due to Consumer Affairs Restrictions. Offer not applicable in or to residents of New York City.