Bathrooms FAQ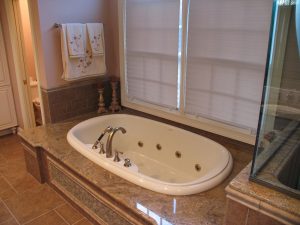 Q: What's the difference between Custom Bathrooms & 5-Day Bathrooms?
A: A 5-Day Bathroom is more limited in scope of work and in product offering. It is also an in-home program where our designers come to you with samples of all of the products offered. Both programs are a complete gut and full remodel of a bathroom, but if you are interested in changing the physical dimensions or the room or have very specific wants or needs, a custom design team will be better suited to help. They will assess the home's existing conditions then meet with you in our showroom/design center to review possible layouts, select product and clearly identify the work scope. As the name suggests, in the 5-Day Bathroom program, the work is usually done in just 5 days. There is also a cost savings with the 5-Day program as the labor cost is capped due to the time savings and product can often be purchased in bulk.
Q: What makes a bathroom more or less expensive?
A: Size of the room in terms of square feet of floor or walls and size of cabinets and counter tops will have the biggest effect on cost. Tile work will account for a large percentage of the cost. Whether you tile just the floor and shower walls, or ½ way up the walls, or all walls tiled completely from floor to ceiling. The specific plumbing fixtures can also affect the cost pretty substantially. A basic tub Vs. a Whirlpool or Bubble Massage tub, a basic toilet tank and bowl Vs. a decorative one piece toilet, and the large selection of cabinetry and counter products and styles. The age of the home can also have an effect on the cost as older homes are more likely to have plaster walls, deafening in the floors, galvanized piping, lead paint, or mold issues. These conditions may substantially add to the cost of removal and replacement and can't always be determined prior to the rip out. Beware of "Concealed Conditions" and make sure that you know how the contractors will deal with them if they come up.
Q: What about contracts and orders?
A: Before any work begins on your bathroom, get a detailed written contract with project specifications such as work scope to identify exactly what work is being done and if anything is your responsibility and a list of products including manufacturer, model numbers and color of everything you are getting. Make sure that the contractor insured by insisting on a copy of the insurance certificates for both workers compensation and liability insurance. These certificates must be valid for the dates that the work is being done, and must come to you directly from the insurance company to ensure that they were not tampered with. Your designer should prepare project drawings including floor plans and renderings that clearly represent your project. If anything changes mid-project, you should be asked to sign a change order that describes the additional work or the items omitted, a price or credit amount, and the payment terms for the change.
Q: What's the goal of a good bathroom design?
A: A well designed bathroom looks bright and open with the majority of the floor area as you first walk in. A good designer will use color and texture to make the room feel larger and more comfortable. There are specific NKBA (National Kitchen & Bath Association) recommendations for sizes and clearances of plumbing fixture that should be adhered to. These are not requirements as some bathrooms are limited in space and can't meet all of the recommendation. A good designer will interview you to figure out which recommendations are more important to you and design with it in mind.
Q: Where's the best place to put a shower stall?
A: Like most things about your new bathroom, it will depend on how you and your family use the shower and how large it needs to be. From a design standpoint it is best if the shower stall is far from the entrance to the bathroom as it is large and will tend to visually close in the room.
Q: What is GFCI and do I need it?
A: GCFI stands for Ground Fault Circuit Interrupters. GFCI is an outlet that monitors the balance of electrical current moving through the circuit. If an imbalance occurs, GFCI cuts off the electricity. Its purpose is to prevent fatal electrical shocks. As you know, water and electricity are a deadly combination. Since both are necessary in kitchens and bathrooms, all counter outlets should be GFCI protected as well as whirlpool bath circuit for your family's safety.
Q: What choices are there in sinks?
A: There are literally thousands of different sinks out there, but the main choice should be the type of sink installations.
Pedestal – Free standing sink that mounts onto the wall and is supported by a pedestal leg. It tends to make the room appear larger. The main disadvantages of a pedestal sink are the lack of storage space and lack of counter space.
Drop in – Tend to be the least expensive and they lip over the cutout in the counter top to "Drop In"
Under mount – The most popular installation today, the under mount sink hangs from the bottom of the solid surface counter top. This method avoids the lip over the counter which makes it easier to wipe the counter down and avoids the caulk line that tends to turn color and get dirty around drop in sinks.
Vessel – This type of sink looks like a bowl that sits on top of the counter. Its largest attribute is its appearance especially in more contemporary bathrooms. It is not as convenient to use but it does over up more counter space since the narrower bottom of the bowl is typically the only part of the sink that makes contact with the counter top.
Q: What should I look for in a contractor?
A: The most important attributes of a good, reputable contractor are:
Been in business for a while under the same company name
Has a good rating with BBB and Consumer Affairs
Has a physical place of business
Has the resources to handle the project even if things go wrong
Courteous service that doesn't make you feel like you have to fight for attention
Warranty on the work they do and the material they install
Is able to help you through the whole process including, layout/design, product selection, project management and permit procurement where required
Carries a substantial amount of liability insurance and worker's compensation insurance for every person that will be working in your home
Q: I need to modify my bathroom for handicap accessibility. Can you help me?
A: Yes, we are certified through the National Association of Home Builders as Certified Aging-in-place Specialists (C.A.P.S) as recognized by A.A.R.P. We understand the ways to help make your home easier for you to live in with modifications to your home including bathroom modifications like roll in showers, grab bars, lighting and widening doors.
Q: How long does it take to remodel a bathroom?
A: A complete basic bathroom typically takes 1½ to 2 weeks. Large custom bathrooms can take as much as a few weeks. As the name suggests, our 5-Day Bathroom program is a complete gut and remodel that takes 5 days from start to finish. Some projects do not qualify for the 5-day program because of their size or work scope.
Q: Do you offer financing?
A: Yes.We can help you secure financing from one of a few vendors.Alure does not finance the project, we simply arrange it through a 3rd party finance company or bank to make it more convenient to our clients.
Q: What is included in the bath remodel price?
A: Our price includes almost everything required to completely remodel your existing bath. We gut the existing room to the studs and sub-floor. We usually supply all of the necessary materials and install them, we tile the floor and walls, bring the electric to code and install necessary lighting and venting, all of the necessary plumbing including new shutoff valves and traps. The only thing that is usually not included is painting or wallpaper hanging.
Extra 5% Savings + 50% off Install!
For a limited time only, save and extra 5% on your project PLUS 50% off Install AND NO money down, NO payments, NO interest for 18 Months* - Act now! *SUBJECT TO CREDIT APPROVAL. Offers are for the stated time period only and may not be combined with any other offers, promotions or discounts. Some restrictions apply. Offer not applicable in all counties due to Consumer Affairs Restrictions. Offer not applicable in or to residents of New York City.