Why You Might Consider a Walk-in Tub in Your Newly Remodeled Bathroom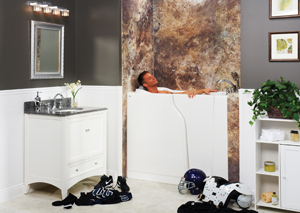 If you stay in one home long enough, there comes a time when you need to take a hard look at your bathroom and think about making some necessary upgrades to ensure the living space is as safe as it can be. Maybe you're growing older and you're looking to retain your bathing independence, perhaps an elderly parent has recently moved in with you, or maybe you're just tired of worrying about slipping and falling when you're getting out of the shower before work every morning. Whatever your situation, installing a Jacuzzi® walk-in tub is a great way to have peace of mind that your bathroom is a little bit safer.
Here's the first thing you should know: Walk-in tubs are extraordinarily comfortable. In fact, many of these tubs come with built-in jets and temperature control systems that make it easier than ever before to have a relaxing soak. What's more, because the tubs tend to be deeper than traditional tub styles, it's easier to stay submerged and enjoy a full body soak. Gone are the days of struggling to contort your body to fit below the waterline in your old bathtub. This helps ease pressure, alleviate tightened muscles, and improve mobility in the body too, and who doesn't want that? Just imagine coming home after a long run and being able to climb into an easy-to-use Jacuzzi® walk-in tub and recharge your batteries. There's a reason that professional athletes around the world swear by hydrotherapy.
Of course, the main reason most folks turn to walk-in tubs is for their safety advantages. It's really no wonder that bathroom accidents are so common when you consider that stepping over a high tub threshold into a wet bathtub is quite a hurdle for those who struggle with limited mobility. Then, the hassle of lowering yourself onto the floor of the bathtub just to get clean can be next to impossible. Walk-in tubs, on the other hand, have an easy-to-use door, slip-resistant flooring, plenty of safety grab rails, and chair-height seating.
Walk-in tubs are great for everyone, from the active athlete to the arthritic senior citizen, and if you're thinking about remodeling your bathroom, you should consider investing in a Jacuzzi® Walk-in tub. This luxurious option may change your outlook on taking a bath altogether. To learn more about bathroom remodeling in Long Island, contact Alure Home Improvements today.
Extra 5% Savings + 50% off Install!
For a limited time only, save and extra 5% on your project PLUS 50% off Install AND NO money down, NO payments, NO interest for 18 Months* - Act now! *SUBJECT TO CREDIT APPROVAL. Offers are for the stated time period only and may not be combined with any other offers, promotions or discounts. Some restrictions apply. Offer not applicable in all counties due to Consumer Affairs Restrictions. Offer not applicable in or to residents of New York City.