Bringing Your Bathroom into the 21st Century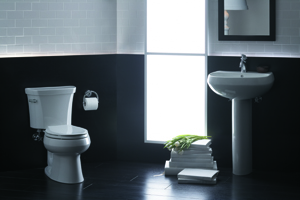 You'd be excused if the bathroom in your home is maybe a little out of date. For a lot of homeowners, the bathroom is a room that is more of a means to an end, a place where you get ready for work in a rush rather than an area in which you're going to spend much time. But, all of the sudden, a bathroom can look dated and worn, which detracts from the overall beauty of the rest of the home and might even be a difference-maker if you're looking to sell. Fortunately, remodeling the bathroom doesn't have to be a painful process. There are all sorts of practical upgrades that you can make to bring your bathroom up to date.
Let's start with the bathtub. Do you actually use it? This isn't as funny of a question as it might sound. Increasingly, homeowners all across America are making the decision to replace their old, rarely used bathtub with a luxurious shower. And, it makes sense when you really think about it. If you aren't one of those people who make it a priority to take long, relaxing soaks in the tub, why risk a potential slip-and-fall when climbing in and out of the tub every day? By installing a no-threshold shower, you're upgrading the safety of the bathroom and making a big change to the overall look of the room.
How about the cabinets and countertops? Few things in a bathroom can start to show their age more quickly than old cabinetry or a stained countertop. By simply making a change there you might be stunned how fresh your bathroom looks. Plus, when you install new cabinets, you can improve the storage options in your bathroom, which might end up making the room feel bigger. Adding mirrors to the room is another way to give the illusion that you have more floor space in the bathroom than you actually have. Plus mirrors have a habit of making a room feel better lit and more inviting.
The point is that there are so many exciting ways for you to upgrade your bathroom that there is no reason at all to settle on a master bathroom that just isn't up to your standards. To learn more about your many options, contact Alure Home Improvements and schedule a consultation at your convenience.
Extra 5% Savings + 50% off Install!
For a limited time only, save and extra 5% on your project PLUS 50% off Install AND NO money down, NO payments, NO interest for 18 Months* - Act now! *SUBJECT TO CREDIT APPROVAL. Offers are for the stated time period only and may not be combined with any other offers, promotions or discounts. Some restrictions apply. Offer not applicable in all counties due to Consumer Affairs Restrictions. Offer not applicable in or to residents of New York City.