Bathroom Remodeling Throughout Suffolk County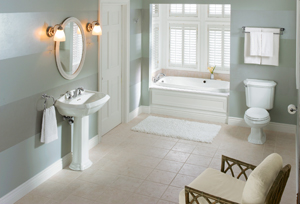 At Alure Home Improvements, we have the experience, manpower, and expertise to handle your next bathroom remodeling project in the Suffolk County area. Since 1946, local area homeowners have turned to us for all of their home remodeling needs, and we are proud of our ability to handle every step of your bathroom remodeling project from helping to design the perfect bathroom through the completion of the job. Plus, we maintain a wide array of products to choose from in various colors, styles, and materials, so no matter your unique aesthetic preferences, we're bound to be able to meet your exact wants and needs.
We understand that no two bathroom remodeling products are exactly the same, which is why our entire team will go to great lengths to help you design the bathroom that will complement the décor of your home, meet the specific practical expectations you have, and reflect the latest in bathroom remodeling techniques and methodologies. One of the greatest benefits of working with a well-respected and established home remodeler, such as Alure Home Improvements, is that you can rest assured in both the quality of our products and handiwork. And, as a full-service home remodeler, we are equipped to handle every component of the remodel, from the electrical work and plumbing to the delicate installation of tile, modern fixtures, and more.
Our professional bathroom remodeling team also recognizes that electing to remodel your bathroom is a big choice, and we'll help you with everything, including:
Deciding on a layout or design
Selecting the right products
Securing necessary construction permits as necessary
Installation and completion of the project
Above all else, we are dedicated to ensuring that you are completely thrilled with your new bathroom. Over the years, we have been proud to receive national attention thanks to our role on Extreme Makeover: Home Edition, but our top priority is to continue to leave each homeowner who turns to us excited about the new upgrade to their home. To learn more about the specific bathroom remodeling services that we offer in the Suffolk County community, contact us today and schedule a consultation or stop by our showroom in East Meadow, New York, and explore our gorgeous displays. We also specialize in the installation of home siding, replacement windows, and much more.
Extra 5% Savings + 50% off Install!
For a limited time only, save and extra 5% on your project PLUS 50% off Install AND NO money down, NO payments, NO interest for 18 Months* - Act now! *SUBJECT TO CREDIT APPROVAL. Offers are for the stated time period only and may not be combined with any other offers, promotions or discounts. Some restrictions apply. Offer not applicable in all counties due to Consumer Affairs Restrictions. Offer not applicable in or to residents of New York City.