Tips for Remodeling a Small Bathroom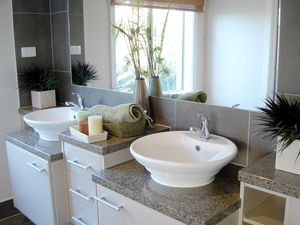 One of the benefits to remodeling a smaller bathroom in your home is that you may be able to maximize storage space in the area or at the very least give the illusion that the room is bigger than it actually is. As a bathroom remodeler at Alure Home Improvements can explain, there are numerous design choices that you can make that will have a big impact on even the smallest bathroom. The trick is to go into the bathroom remodeling process with an open mind, explore your options, and rely on the expertise and experience of professional remodelers.
One of the benefits to turning to Alure Home Improvements for all of your bathroom remodeling needs is that we are a full service home remodeler who has served local homeowners since 1946. As a result, we have the experience needed to handle bathroom remodeling projects of all different sizes and scopes. There are all sorts of ways to take full advantage of your small bathroom, such as by:
Experimenting with bold color schemes or patterns, These small rooms can be a perfect place to try different shades or design choices you may not consider in a master bath
Installing large mirrors or a glass shower door, Glass and mirrors can make the room look much larger than it is.
Building up to the ceiling, By taking full advantage of all of the wall space in your bathroom, you can add additional storage and make the room seem larger and taller.
Change the floor plan, Sometimes, by moving things around in the bathroom you can better optimize the space that you have and find additional floor space you didn't have before.
Remove clutter, By keeping countertops free of clutter, your bathroom will look cleaner, more inviting, and bigger.
These are just a few examples of things to consider when you're remodeling a small bathroom. To learn more about your various options, contact Alure Home Improvements today to schedule a consultation with one of our certified bathroom remodelers.
Extra 5% Savings + 50% off Install!
For a limited time only, save and extra 5% on your project PLUS 50% off Install AND NO money down, NO payments, NO interest for 18 Months* - Act now! *SUBJECT TO CREDIT APPROVAL. Offers are for the stated time period only and may not be combined with any other offers, promotions or discounts. Some restrictions apply. Offer not applicable in all counties due to Consumer Affairs Restrictions. Offer not applicable in or to residents of New York City.