Seasoned Bathroom Remodeling Experts in Ridge, NY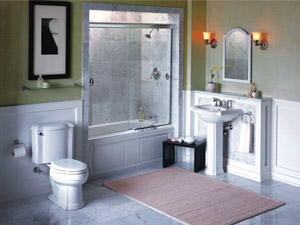 At Alure Home Improvements, we specialize in bathroom remodeling in the Ridge, New York, community, as well as the surrounding area. Since 1946, we have been proud to meet the home improvement needs of our neighbors, and we are eager to show you the same great customer service that has defined our company since we first opened our doors so many years ago. If you are interested in remodeling a bathroom in your home, put your trust in our industry veterans. We'll be able to work with you to design a bathroom that exceeds your every expectation.
In order to help ensure that your newly remodeled bathroom will exude your aesthetic preferences and have the essential features you've always wanted, our dedicated bathroom remodelers will discuss your specific needs and wants. Sometimes homeowners know exactly what they want and turn to us to make their vision into a reality. Other times, homeowners put their trust in our expert design team to create bathrooms with their preferred looks. Whatever your situation, we have you covered. At Alure Home Improvements, we offer two different approaches to bathroom remodeling:
Custom bathroom remodeling: As a full-service home remodeler, we can handle jobs of any size. We can knock down walls, expand rooms, move fixtures, and make extensive changes to the layout of the room to meet your needs.
5-Day EXTREME Bathroom Remodeling: This service is ideally suited for homeowners who only have one bathroom or who don't need to alter the footprint of the room and have fixtures moved. While still a full gut and remodel, this is an extremely quick way to transform your bathroom into the room you've always wanted.
To learn more about the bathroom remodeling services we proudly offer in Ridge, New York, contact us today and schedule a consultation with one of our bathroom remodeling experts. We're eager to help you design a gorgeous new room for your home.
Extra 5% Savings + 50% off Install!
For a limited time only, save and extra 5% on your project PLUS 50% off Install AND NO money down, NO payments, NO interest for 18 Months* - Act now! *SUBJECT TO CREDIT APPROVAL. Offers are for the stated time period only and may not be combined with any other offers, promotions or discounts. Some restrictions apply. Offer not applicable in all counties due to Consumer Affairs Restrictions. Offer not applicable in or to residents of New York City.