The Top Source for Bathroom Remodeling Services in Nassau County, NY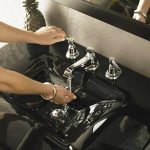 An ugly, outdated bathroom can leave you feeling uncomfortable in your own home. Don't allow yourself to feel like that! Instead, call Alure Home Improvements and start planning a bathroom remodeling project. For over 75 years, we've helped residents of Nassau County, New York, upgrade their homes, and we're excited to do the same for you.
Turn to the Trusted Bathroom Remodelers
At Alure Home Improvements, we offer a variety of bathroom remodeling services:
5-Day bathroom remodels – For homeowners with limited time or homes with only one bathroom, our thorough 5-day bathroom remodels are the ideal option. In just five days or less, our skilled team will renovate your bathroom to your exact specifications.
One-Day bathroom remodels – The quickest way to update your space is with one of our one-day bathroom remodels. We'll finish your project quickly while ensuring top-notch outcomes.
Custom bathroom remodels – As full-service bathroom remodel contractors, we have the resources to handle any size project. Additionally, we provide a wide range of customization options to assist you in designing the ideal personalized bathroom. We can help with any job, no matter the scope or complexity!
Alure Home Improvements: The No. 1 Bathroom Remodeling Company
Alure Home Improvements is proud to serve our community in Nassau County, NY. We've built our business around quality craftsmanship and flawless customer service. That's why, we've satisfied a countless number of clients since our founding all the way back in 1946. We are undoubtedly the top choice for all your bathroom remodeling needs. So, contact us today!
Alure Online
Specials
View A Complete List Of Our Specials
Some restrictions apply, click the button below for more details.