The Advantages to Acrylic Tub and Shower Liners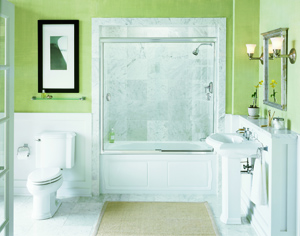 If you're like most people, you probably get frustrated by how difficult it can be to keep the bathtubs in your home looking clean and new. Even with regular maintenance and scrubbing, bathtubs have the bad habit of becoming stained and full of mildew over the years, which can really take away from the overall beauty of the bathrooms in your home. So, what can be done to avoid this problem? One compelling option is to look into installing an acrylic tub liner over your existing tub.
In recent years, acrylic liners have become more and more popular because acrylic is, frankly, more durable than ceramic. This 100 percent nonporous material is extremely low maintenance because it won't ever stain, crack, or fade, something that high-quality liners guarantee for as long as you own your home. Some of the best acrylic liners also come with a built-in anti-microbial that helps prevent the growth of mold and mildew in the tub or shower. Of course, this doesn't mean that you'll never have to worry about cleaning your bathtub again, but it does mean that you won't have to work quite as hard to keep it looking as good as new. An acrylic liner is also a great way to cover up an unsightly bathtub that has become worn over the years. That's because these liners are custom-manufactured to fit over old tubs like a glove. Once in place, you'll forget all about your old tub.
Yet, there is also more to acrylic liners than just their resiliency. They also can incorporate all sorts of compelling features that you might not have in your old, worn bathtubs. For instance, since each liner is made to your specifications, you'll have the opportunity to select the base color and wall surround to ensure that your tub complements the décor of the bathroom. This is a compelling option if you've been thinking about remodeling your bathroom for awhile, but you're really not eager to buy a new tub. These liners can also be outfitted with the accessories that you want, so if you have always wished your tub had a more convenient soap dish or towel bar, a new liner makes good sense.
To learn more about the numerous advantages to acrylic tub liners, contact Alure Home Improvements to speak with one of our bathroom remodeling experts.
Extra 5% Savings + 50% off Install!
For a limited time only, save and extra 5% on your project PLUS 50% off Install AND NO money down, NO payments, NO interest for 18 Months* - Act now! *SUBJECT TO CREDIT APPROVAL. Offers are for the stated time period only and may not be combined with any other offers, promotions or discounts. Some restrictions apply. Offer not applicable in all counties due to Consumer Affairs Restrictions. Offer not applicable in or to residents of New York City.