The Features of Our Jacuzzi Walk in Tubs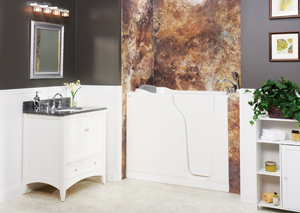 At Alure Home Improvements, we're pleased to feature Jacuzzi® walk in tubs in our inventory. Perfect for homeowners who are interested in improving the safety of their bathroom, these intuitively designed walk in Jacuzzi tubs combine luxury and health benefits to provide you with the ideal bathing experience. Whether you struggle to get into and out of your traditional bathtub every morning and you're concerned about slipping and falling, or you're simply looking for a comfortable place to unwind after a long day at work, a Jacuzzi® walk in tub is a great investment.
As any homeowner knows, household accidents are unfortunately quite common in the bathroom. Stepping over a tall bathtub wall can be quite a hurdle for seniors and those who deal with limited mobility, which can make the bathing process needlessly stressful. The benefit to a Jacuzzi® walk in tub, however, is that these bathtubs come standard with a low step and easy-to-use door that makes entering and exiting the tub extremely safe and easy.
In addition to the leak-proof door, these tubs come with several other additional safety features that can make a big difference in the bathtub, including:
Slip-resistant flooring that provides stability when navigating the tub
Chair-height seating that is ergonomically designed and easy to get in and out of
Safety grab bars to hold onto when entering or exiting the bathtub
Conveniently located controls that are simple to use
Plus, as our bathroom remodelers can explain, once you're in your Jacuzzi® walk in tub, all you need to do is push a button to enjoy the total body therapy provided by Jacuzzi® jets. This patented PointProâ"¢ system offers high-volume, low-pressure pumps that have the perfect balance between water and air for a thorough, gentle massage.
To learn more about the benefits of our walk in tubs as part of our bathroom remodeling service, contact Alure today and speak with one of our associates.
FREE 5FT Tub Sliding Door With Your Complete Bathroom Remodel
For a limited time only, get a FREE 5FT Tub Sliding Door with your Complete Bathroom Remodel PLUS NO money down, NO payments, NO interest for 18 Months* - Act now! *SUBJECT TO CREDIT APPROVAL. Offers are for the stated time period only and may not be combined with any other offers, promotions or discounts. Some restrictions apply. Offer not applicable in all counties due to Consumer Affairs Restrictions. Offer not applicable in or to residents of New York City.