At-home Hydrotherapy with a Walk in Tub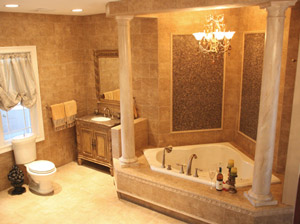 Hydrotherapy isn't a new thing. For generations, people have reported the restorative powers of a good long soak in a hot bathtub. All around the globe people visit high end spas and spend thousands of dollars on extensive physical therapy to heal their ills, but did you know that you can enjoy the benefits of hydrotherapy right at home? By investing in a walk in tub for your house, you'll have the opportunity to enjoy the potential health benefits offered by therapeutic jets and hot water from the comforts of your master bathroom.
The use of water is a significant part of many physical therapy regimens because different levels of water pressure and temperature can have immediate health benefits on the body with little risk of side effects or long-term discomfort.  Here are three examples of how hydrotherapy from a walk in tub can help:
Heat therapy, Submerging yourself in a hot bathtub can decrease joint stiffness, alleviate pain, and increase blood flow, helping you to overcome aches and pains and relax. Nearly everyone knows how comforting a hot bath after a long day can be, you just might not have realized the health benefits this soak can have as well.
Cold therapy, While not as idyllic as a warm bath, athletes everywhere understand how a cold tub can help alleviate swelling and return blood flow to normal after an injury.
Massage, The soothing jets included in many walk in tubs are also helpful because their strength can be adjusted to deliver the specific performance you require to relax your muscles and joints.
While some people associate walk in tubs with the elderly or sedentary, in reality these comfortable bathtubs are perfect for individuals of all age and health. After all, the built-in safety features that make it so popular with the aging-in-place crowd, such as the low-threshold door, slip-resistant flooring, and ergonomic seating, are a great option for anyone who is interested in making their bathroom a safer place. To learn more about the numerous safety features and help benefits of the walk in tubs that we offer at Alure Home Improvements, contact us today and speak with one of our bathroom remodeling professionals.
FREE 5FT Tub Sliding Door With Your Complete Bathroom Remodel
For a limited time only, get a FREE 5FT Tub Sliding Door with your Complete Bathroom Remodel PLUS NO money down, NO payments, NO interest for 18 Months* - Act now! *SUBJECT TO CREDIT APPROVAL. Offers are for the stated time period only and may not be combined with any other offers, promotions or discounts. Some restrictions apply. Offer not applicable in all counties due to Consumer Affairs Restrictions. Offer not applicable in or to residents of New York City.