Comprehensive Bathroom Remodeling Services in Hicksville, New York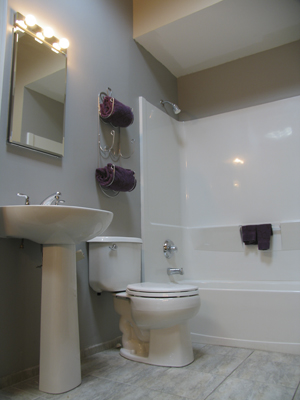 If you are thinking about remodeling a bathroom in your Hicksville, NY, home, the professionals at Alure Home Improvements can help. We're a fully licensed and insured home remodeler that has helped local homeowners with their bathroom remodeling needs since we first opened our doors back in 1946. If your current bathroom isn't fully meeting your needs and it's time to make a change, put your trust in our team. We'll work tirelessly to transform your old, dingy bathroom into luxurious living space.
At Alure Home Improvements, we offer two main bathroom remodeling services:
5-Day EXTREME Bathroom Remodeling: This unique service was developed to offer homeowners an opportunity to rejuvenate their bathrooms in less time than they thought possible. Our team works tirelessly to gut and remodel the room and completes the work in only a week – an option that is particularly appealing to homeowners who only have one bathroom in their house.
Custom bathroom remodeling: As a full-service home remodeler, we have the ability to handle construction projects of all sorts. The benefit to our custom service is that we can do whatever it takes to ensure a finished bathroom fully meets the needs of the homeowner. Even if we need to knock down walls, move fixtures, install windows, and make wholesale changes, no job is too big for our team.
Regardless of the bathroom remodeling service you select for your Hicksville, New York, home, you can be confident that you'll receive only the best customer service. We work hard to ensure that you'll be thrilled with our handiwork when the job is done and we're only happy when you are. To learn about the many benefits to this and other remodeling services we offer at Alure Home Improvements, contact us today or stop by our 3 floor showroom in East Meadow to explore your options in person.
Alure Online
Specials
View A Complete List Of Our Specials
Some restrictions apply, click the button below for more details.