Bathroom Remodeling Services in East Meadow, NY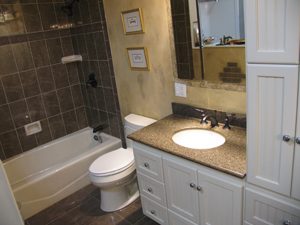 When it comes to bathroom remodeling in East Meadow, New York, one name stands out among the competition: Alure Home Improvements. Since 1946, homeowners throughout the area have put their trust in our home improvement projects and we are proud to be one of the community's most established and highly regarded companies. If the time has come to remodel the bathroom of your home and you are interested in working with professionals who are experienced, trained and reliable, Alure Home Improvements is here to help.
When it comes to bathroom remodeling, different homeowners have different preferences. Our team understands that you will have your own aesthetic tastes, practical requirements, and space constraints, and we will work hard to develop a design plan that is right for any bathroom in your East Meadow, NY, home. Whether you're a first time home buyer who is eager to upgrade the master bathroom or you've lived in your house for decades and want to make your bathroom a little safer with a walk in bathtub and other safety features, we can help.
Here are the bathroom remodeling services that we have available at Alure Home Improvements:
5-Day EXTREME bathroom remodeling – A great option if you have only one bathroom in your home or you're looking to get the project done as quickly as possible, our 5-Day bathroom remodeling service is a full gut and remodel that can be completed in less time than you probably thought possible.
Custom bathroom remodeling – If you want walls knocked down, fixtures moved around, and wholesale changes made in the bathroom, we can handle the job. As a full-service home remodeler, no job is too big or complex for our team and you can rest assured we have the ability to handle your construction project from start to finish. If you can dream it, we can create it with our custom bathroom remodeling service.
For additional information about the specific bathroom remodeling services that we offer in East Meadow, NY, contact us today or stop by our three-story showroom to speak with a dedicated bathroom remodeling expert.
Alure Online
Specials
View A Complete List Of Our Specials
Some restrictions apply, click the button below for more details.