EXTREME 5-Day Bathroom Remodeling Services in the Bronx & Across New York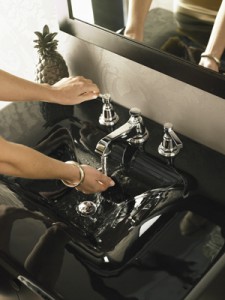 Alure Home Improvements is pleased to offer our EXTREME 5-Day bathroom remodeling service to homeowners in the Bronx and New York City who are interested in rejuvenating their bathroom in a fast and affordable way. The EXTREME 5-Day bathroom remodeling service involves a full gut and remodel of the bathroom, but is intended for homeowners who like the existing floor plan of their bathroom and don't need walls or fixtures moved. While we're more than qualified to handle such major construction, this unique service was designed for those who are ready to invest in remodeling their bathroom but aren't interested in a dramatic overhaul of their living space and want the project completed as quickly as possible. This fast remodel is also ideal when the bathroom being upgraded is the only one in the home, as the quick turnaround time greatly limits the interruption in the homeowner's daily life.
A few features that we can install during an EXTREME 5-Day remodel include new:
Cabinetry
Showers
Sinks
Faucets
Bathtubs
Mirrors
Drawers
And much more
As a full-service home remodeling company, we have the expertise, inventory, and firsthand experience necessary to handle jobs of nearly any size and scope. Over the years, we've developed a sterling reputation in the community for our commitment to the quality of our products and services, and we're dedicated to building lasting relationships with our neighbors. Whether you're finally ready to transform your dreary old Manhattan bathroom into the oasis of your dreams, or you're simply looking for a practical way to upgrade the property value of your home in the Bronx, our bathroom remodeling services are the perfect solution.
To learn more about remodeling your bathroom in the Bronx, contact us today or stop by our three-story showroom in East Meadow, New York. We're also pleased to offer a variety of other home improvement products and services, such as kitchen remodeling, siding, roofing, and more.
FREE 5FT Tub Sliding Door With Your Complete Bathroom Remodel
For a limited time only, get a FREE 5FT Tub Sliding Door with your Complete Bathroom Remodel PLUS NO money down, NO payments, NO interest for 18 Months* - Act now! *SUBJECT TO CREDIT APPROVAL. Offers are for the stated time period only and may not be combined with any other offers, promotions or discounts. Some restrictions apply. Offer not applicable in all counties due to Consumer Affairs Restrictions. Offer not applicable in or to residents of New York City.