Advice for Remodeling the Bathroom in the Home You Just Purchased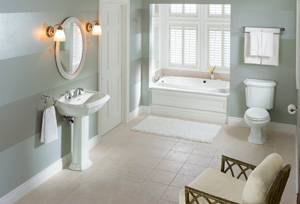 If you've recently purchased a new home, the odds are pretty good that there are a few changes that you'll want to make before it feels like your own. Maybe you're one of those homeowners who enjoys "flipping" a project house or maybe you're just excited to live in a home that really exhibits your unique style. One good way to greatly improve the look and feel of any new house is by remodeling the bathrooms in the home. More often than not, these are the rooms that can benefit the most from some love and care and require a little work to fully meet your specific needs and wants. So what should you look for when you're remodeling a bathroom in your recently purchased home?
Here are three things to consider:
Look at the bathtub and shower closely, There are few places in the home that can show their age more dramatically than a dingy old bathtub or shower. By simply replacing the tub or shower, or installing a practical liner, you will be amazed at how big of a difference it can make in your home.
Consider your bathroom cabinets and storage options, Upgrading the cabinetry to meet your specific requirements is a great way to make the bathroom feel like your own. Perhaps you have lots of toiletries, towels, and other personal effects that you like storing in your bathroom but you're tight on space, or maybe you would like to install gorgeous all-natural wood cabinets to complement the décor of the room, whatever your reasoning, bathroom cabinets are a very important consideration.
Have fun designing your dream bathroom, Even if this is your first home and you haven't had an awful lot of time to consider the layout of your dream bathroom, there's no reason that you can't create a bathroom that you'll be proud of, and one that meets your specific needs as well. Working with an experienced interior decorator, space planner, and bathroom remodeler is always a good option and they can be helpful to make sure you take the time to explore current trends and popular design accents.
Clearly there are a lot of things to consider when you're moving into a new home but if you are interested in remodeling your bathroom, it's a good idea to rely on the experience and expertise of the professionals. Contact Alure Home Improvements today to learn more about how you can get the most out of your new bathroom.
FREE 5FT Tub Sliding Door With Your Complete Bathroom Remodel
For a limited time only, get a FREE 5FT Tub Sliding Door with your Complete Bathroom Remodel PLUS NO money down, NO payments, NO interest for 18 Months* - Act now! *SUBJECT TO CREDIT APPROVAL. Offers are for the stated time period only and may not be combined with any other offers, promotions or discounts. Some restrictions apply. Offer not applicable in all counties due to Consumer Affairs Restrictions. Offer not applicable in or to residents of New York City.