Bathroom Ideas for Remodeling with Alure Home Improvements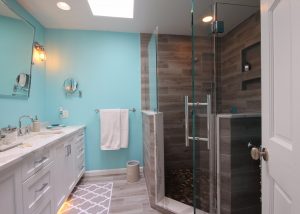 It's not always easy to find inspiration for a remodeling project, or imagine up how a new space will look while you're staring at your old one. But bathroom remodels in particular can be both fun and rewarding to take on, and we've got some great bathroom ideas to get you started.
With bathrooms, you can either carry in the decorating style that runs through the rest of your home, or you can bring in an entirely new style, as the bathroom is a closed space, separate from the other rooms in your home. If there is a particular style you love, or a few styles you may want to incorporate together, don't be afraid to make it work!
Bright, bold colors on the other hand, can be fun, and can really help highlight certain areas of your bath. If you're looking to change it up, using a bright color to decorate the walls is a great way to create drama, and make your bath stand out.
Aside from color, there are many other bathroom ideas that can help you achieve the design and theme you're looking for. The materials you incorporate in your bathroom make a huge difference, whether you want that peaceful, tranquil feel, or that dramatic impact. The woods, tiles and décor you bring into your bathroom will help set the mood.
For more bathroom ideas, browse our bathrooms galleries to get the inspiration you need. Or, contact one of our design experts for unique bathroom ideas tailored to your specific interests and needs.
Alure Online
Specials
View A Complete List Of Our Specials
Some restrictions apply, click the button below for more details.