Exciting Bathroom Design Ideas for Homes in Suffolk County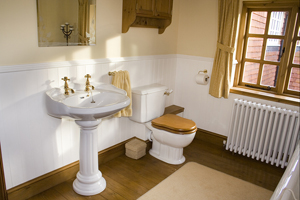 One of the best parts of remodeling the bathroom in your Suffolk County home is exploring popular bathroom design ideas. There are no shortage of resources at your disposal and keeping informed about the latest design trends and styles in the bathroom remodeling industry can be a fulltime job. However, when the time comes to begin to think about remodeling your bathroom, it can be extremely helpful to have a team of professional remodelers to rely on and help simplify the process. This is where the highly experienced professionals at Alure Home Improvements can help. As a full-service home remodeling company with decades of experience in the industry, we've handled bathroom remodels of all sizes and scopes and can help turn your bathroom design ideas into a reality.
Our experienced bathroom designers will walk you through the wide array of products that we have available to help you create the bathroom of your dreams. Whether you're in the market to create a wide open, inviting master bathroom that reminds you of a visit to the spa or you'd like a modern, chic bathroom that exudes your own specific style with distinct colors and artwork, our staff will assist you in designing the perfect bathroom for your home.
An inherent challenge to many bathroom remodeling projects is finding ways to optimize limited space. A quality bathroom remodel is focused on more than just the décor of the room. Alure Home Improvements specializes in the subtler aspects of remodeling. As a result, we can help you meet the specific practical needs that you have for your bathroom remodel, like creating additional storage space, optimizing the bathroom floor plan to seem larger and more inviting, or creating a more feng shui atmosphere.
At Alure Home Improvements, we value our personalized customer service above all else and our bathroom remodelers will work extremely hard to ensure that you are thrilled with your newly remodeled bathroom. To learn more about how we can help you implement your bathroom design ideas into your home in Suffolk County, contact us today and schedule a consultation. We also are proud to offer kitchen remodeling, basement finishing, and several other remodeling services.
Alure Online
Specials
View A Complete List Of Our Specials
Some restrictions apply, click the button below for more details.