Bathroom Cabinets – Huntington
Pick the Perfect Bathroom Cabinets for Your Huntington, NY, Area Home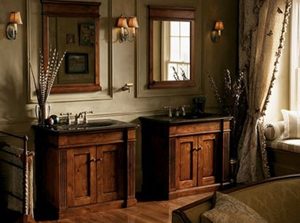 Choosing the perfect bathroom cabinets for your home in or near Huntington, New York, is essential. Cabinetry goes a long way toward upgrading the look and functionality of the bathroom area, and with the right style cabinets in place you can maximize your storage potential. At Alure Home Improvements, we know how important it is to have the right cabinets installed in your bathroom and are pleased to offer many different styles to complement the décor of your room. As full service bathroom remodelers, our highly trained team is equipped to help you design the bathroom that meets all of your needs and leaves you eager to show off the remodeled living space.
When it comes to bathroom cabinets, you have lots of choices to consider. At Alure Home Improvements, our bathroom designers will work closely with you to help you select cabinetry that looks great and takes full advantage of the room, no matter how big or small your bathroom is. In many cases, we can even help you custom design cabinets and other storage solutions to help you better store your towels, toiletries, medications, and other bathroom essentials – even if space seems limited.
Specifically, our team can help you customize bathroom cabinets for your Huntington, NY, home in terms of:
The type of wood you prefer
The wood grain that you like
The color pattern that will best fit in your bathroom
The layout of your cabinets and drawers
Of course, at Alure Home Improvements our team does more than just install gorgeous bathroom cabinets. We'll gladly work with you to handle your entire bathroom remodeling project no matter your specific needs. We can even knock down walls, move fixtures, and completely change the floor plan of the room if you'd like.
To learn more about the bathroom cabinets we install in Huntington, New York, as well as the other bathroom remodeling services we offer, contact us today.
Extra 5% Savings + 50% off Install!
For a limited time only, save and extra 5% on your project PLUS 50% off Install AND NO money down, NO payments, NO interest for 18 Months* - Act now! *SUBJECT TO CREDIT APPROVAL. Offers are for the stated time period only and may not be combined with any other offers, promotions or discounts. Some restrictions apply. Offer not applicable in all counties due to Consumer Affairs Restrictions. Offer not applicable in or to residents of New York City.