New Cabinets Installed in Homes Across Long Island, NY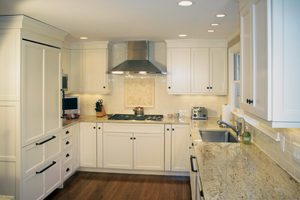 At Alure Home Improvements, we know how important the cabinets are in your Long Island, New York, home, which is why we put a tremendous emphasis on cabinet installation as part of both our bathroom and kitchen remodeling services. When you put your trust in our highly trained and knowledgeable space planners and interior designers, we'll help you optimize your cabinets to ensure that you have ample storage space where you need it most with cabinets that look fantastic. It's just one example of how the team at Alure Home Improvements goes above and beyond to ensure that each remodeling job that we undertake is done right.
As a full-service home remodeler, we pride ourselves on our ability to handle jobs big and small. With regard to cabinets, our team can design the custom storage solutions that are most appropriate for any room in your home. For instance, if you have a small half bath that feels cramped with little place to store toiletries and towels, we might be able to design a unique cabinet system that better utilizes the available space. Alternatively, if you are remodeling your kitchen and want to make sure that you have more than enough room for all of your dishes, food prep equipment, and pantry items, we can design cabinets to accommodate those needs as well. When you visit Alure Home Improvements, you'll work with a team who takes your needs and expectations to heart and designs rooms that have the features you need most rather than relying on cookie cutter cabinets out of a catalog.
In addition to offering an incredible collection of cabinet sizes to consider, our cabinetry is also highly customizable from a design perspective. You can choose from all sorts of different:
Colors
Wood grains and species
Door styles
Hardware options
Shelving choices
And more
If the time has come to upgrade your kitchen or bathrooms in your Long Island, NY, home, put your trust in our dedicated team of interior remodelers. Contact us today to learn more about the many cabinets we offer as well as our many other remodeling products that have available.
Extra 5% Savings + 25% off Install!
For a limited time only, save and extra 5% on your project PLUS 25% off Install AND NO money down, NO payments, NO interest for 18 Months* - Act now! *SUBJECT TO CREDIT APPROVAL. Offers are for the stated time period only and may not be combined with any other offers, promotions or discounts. Some restrictions apply. Offer not applicable in all counties due to Consumer Affairs Restrictions. Offer not applicable in or to residents of New York City.