Remodel a Bathroom in Your Bergen County, NJ, Home with Help from the Team at Alure Home Improvements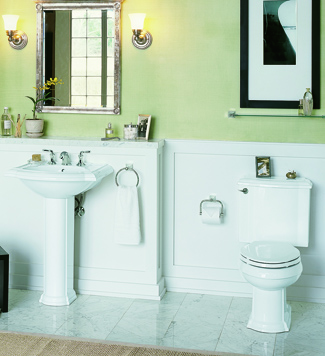 If you would like to remodel a bathroom in your home in Bergen County, New Jersey, let the professionals at Alure Home Improvements help. Our highly trained team of experienced remodelers can assist you in designing a bathroom that fully meets your practical needs and also exudes your sense of style. No matter if you're interested in bolstering the safety of the bathroom, you want to create the master bathroom of your dreams, or you just bought a new home and the bathroom needs serious work, we are at your disposal.
To help you through your bathroom remodel, you'll have the opportunity to work with our design specialists. These professionals are a resource that can help you improve the:
Storage capabilities of the bathroom
Ventilation in the room
Lighting – both natural and from fixtures
Layout of the bathroom
Aesthetic design of the room
Another advantage to remodeling your bathroom is that we can help you improve the overall safety of the room by installing a walk in tub or with our tub to shower conversion service. By replacing your standard bathtub, with its high tub wall, you can remove an impediment in the bathroom that often leads to slips and falls. Many homeowners remodel their bathrooms when they're looking for practical ways to retain their bathing independence or want to accommodate the changing needs of older family members.
As a full-service home remodeler, Alure Home Improvements is equipped to handle bathroom remodel projects of every size and scope. If you'd like us to tear down walls, move fixtures around, and completely renovate the layout of the bathroom, we are glad to help and will work diligently to ensure the finished product exceeds your expectations. Another option we gladly offer is our 5-Day EXTREME Bathroom Remodel. This service is a popular option because it can be completed in only five days by our dedicated remodelers, which is much less time than you might anticipate your bathroom remodel taking.
To learn more about each of the bathroom remodel options that we offer in Bergen County, NJ, contact us today. We are happy to help you remodel every bathroom in your home.
$500 OFF*
Complete Bathroom Remodel
Expires 1/31/2019. Minimum purchase of $9,999; Offers are for the stated time period only and may not be combined with any other offers, promotions or discounts. Offer not applicable in all counties due to Consumer Affairs Restrictions. Offer not applicable in or to residents of New York City.