Design the Bathroom of Your Dreams for Your Home in Bergen County, New Jersey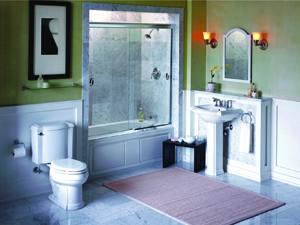 Do you need help with the design of the bathroom in your home in Bergen County, New Jersey? Can you tell that things aren't quite right, but you aren't sure how best to fix the issue? Are you interested in relying on the expertise of highly trained, fulltime bathroom design professionals who can help you completely transform your bathroom? If so, the team at Alure Home Improvements will be glad to help. As a full-service home improvement company, we proudly offer many different bathroom remodeling services and can handle your project from start to finish, no matter what you have in mind.
A lot goes into a new bathroom design. You want to make sure that your new bathroom looks great, of course, but there are also other considerations that can affect the initial design plan. For instance, are you pleased with the current storage space in the bathroom? If not, our space planners can work with you to determine ways to offer you additional storage solutions in the room. Our bathroom design team can also:
Help ensure proper ventilation in the bathroom
Design a floor plan that better complements the layout of the home, taking traffic flow into consideration
Create a green bathroom that wastes less electricity and water, takes better advantage of natural lighting, and is as environmentally friendly as possible
Work with you to design a bathroom that best exudes your personal style
Help you improve the overall safety of the bathroom, removing hurdles and potential problem areas where accidents are more likely to happen
Help you select the perfect fixtures, countertops, flooring, and finishing touches to design a bathroom that you'll be proud to show off to your friends and family
At Alure Home Improvements, we put an emphasis on bathroom design because we want you to be completely thrilled with our work. It is this commitment to excellence that has driven our home improvement company since we first opened our doors back in 1946. If you would like to learn more about the bathroom design and remodeling services we offer in Bergen County, NJ, contact us today.
$500 OFF*
Complete Bathroom Remodel
Not to be combined with any other sales, discounts or promotions. Minimum purchase $9,999.