Designer Bio: Richard Reese
About: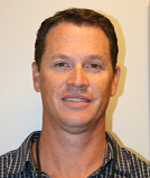 Richard Reese has been designing kitchens and bathrooms since 2003. A graduate from Alfred University with a Bachelors of Science degree in Marketing, and played lacrosse achieving All-American honors his senior year. Rich grew up on Long Island, NY working for his father in construction in between semesters in college.
After graduating Rich worked for IBM in a corporate setting for 5 years and realized sitting behind a desk just wasn't for him. He wanted to be more involved in construction but didn't want to actually swing a hammer for a living. So he started working for few small independent contractors designing bathrooms and kitchens. Rich joined Alure Home Improvements in 2008 and now has more than 12 years of kitchen and bath design experience.
When designing spaces for his clients, Rich first makes sure he understands how they will use their spaces and what style preferences they have. He listens attentively to their wishes and concerns and produces a plan that incorporates those details. Rich is adept in all design style, from Traditional to Transitional and Modern. He creates a personal, beautiful and functional space, and turns their dreams into reality.
4 favorite things:
1. Food – Rich loves to cook and also trying out new restaurants.
2. Family & Friends – He loves to spend time with his wife and two boys, as well as with other family members and friends.
3. Outdoor Activities – Rich loves boating, fishing, golfing and lacrosse.
4. Music – He likes listening to music and going to live shows.
Certifications:
– National Kitchen and Bath Association
– Basic Kitchen Design
Accolades:
– Alure Salesman of the Year Award
Featured Project:
10 Day Kitchen in South Setauket, NY
Alure Online
Specials
View A Complete List Of Our Specials
Some restrictions apply, click the button below for more details.