Designer Bio: Patricia Nicolini
About: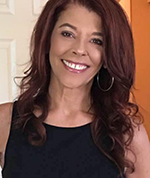 Patricia Nicolini has been in the home improvement industry over 31 years and has been a Custom Kitchen and Bathroom Designer for Alure for the past 16 years. She grew up in the business by working with her dad. She was the son he never had and as a result, she followed in his footsteps.
Patricia earned her Certified Kitchen Designer (CKD) with the National Kitchen and Bath Association (NKBA) in 2002. She was recognized for her knowledge in the industry and sat on an expert question and answer panel for Phil Rey during a two day training seminar in Atlanta in front of approximately 1,000 people.
4 favorite things:
1. Beach – Patricia loves the beach whether it is relaxing on the sand or cruising the water in a boat.
2. Entertaining – She loves to entertain and be surrounded by good friends and family.
3. Decorating – Patricia has a knack for decorating and likes to rearrange her home whenever she gets a chance.
4. Animals- Patricia is passionate about animals and is heavily involved in animal rescue. She also has a beautiful Rhodesian Ridgeback that she loves to spend time with.
Accolades:
– Patricia was published in the National Association of Remodeling Industry (NARI) magazine
– Featured in many blog articles showcasing her expertise
Favorite Project:
One of Patricia's favorite projects was a small bathroom that she did for a client who had special needs. This was a challenge because it was a typical small 5 x 10 bathroom. She had to convert the tub to a shower and build a seat. She also had to put in a handheld shower with shower controls accessible next to the seat. This was her favorite project because she was able to help someone enjoy a better quality of life, while also keeping the space aesthetically pleasing with great quality products.
Featured Project:
Custom Kitchen in East Islip, NY
Click Here To View More Of Patricia's Work
Alure Online
Specials
View A Complete List Of Our Specials
Some restrictions apply, click the button below for more details.