Designer Bio: Howard Heide
About: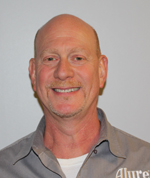 Howard Heide was born and raised on Long Island. He brings over 30+ years of sales experience with him ranging from owning his own chocolate manufacturing company to interior design experience.
Before coming to Alure, Howie spent over 15 years designing high end showrooms, spacing planning and selling high end home furnishings so it was a natural fit for Howie to move into a designer position at Alure in the beginning of 2016. Howie brings his sales, management and customer service skills to the 5 Day Bathroom department where he loves each new adventure.
3 favorite things:
1. Sports – An avid, New York Jets fan, Howie is a season ticket holder and loves attending as many games as he can.
2. Vacations – Sun and palm trees are two of his favorite things when it comes to a vacation spot.
3. Family – Howie enjoys spending quality time with his family as well as dining with friends.
Favorite Project:
Howie's favorite project was for a customer that called for a complete bathroom remodel in Rockaway Park. The client was recently widowed and was now trying to handle the house by herself. She was in dire need of a washer and dryer upstairs but there was no existing space for it. Howie was able to reconfigure her bathroom to make it fit. Her four piece bathroom consisted of a vanity, toilet, tub and separate walk in shower. Howie was able to convert the tub into a shower/tub combination, while turning her walk-in shower into a mini washroom area with a stackable washer and dryer system. Although this is out of the normal scope of work within a 5 day bathroom remodel, Howie was able to partner with management and production team to get this job done. The end result not only met the clients needs functionally, but was stylish and beautiful. She was very appreciative and Howie was elated to have helped his customer in need.
Featured Project:
5 Day Bathroom – Huntington Station, NY
Click Here To View More Of Howie's Work
Alure Online
Specials
View A Complete List Of Our Specials
Some restrictions apply, click the button below for more details.