Designer Bio: Gregory Griffin
About: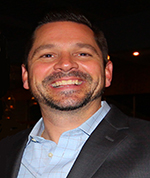 Gregory Griffin is a born and bred New Yorker with 10 years design build construction experience. He lives in Nassau County with his wife and 2 children. Greg went to the University at Buffalo and has a BA in Geography and International Business & World Trade.
Greg can design to fit almost every need while still making it cool, trendy and fun in the process. He tries to make things edgy for the client and realizes that small details can make a huge difference. Providing an exceptional experience and an outstanding relationship with his clients is key.
3 favorite things:
1. Exercising – Greg likes to exercise regularly and takes part in the Marcum Workplace Challenge every year where he runs the 3.5 miles along with the Alure team.
2. Family – He loves spending time with his family and enjoys the quality time they share.
3. Skiing – Greg is very passionate about skiing and grabs any chance he can to hit the slopes.
Accolades:
– NARI Silver Contractor of the Year (CotY) Award 2016, 2017 & 2019
– NARI Platinum Contractor of the Year (CotY) Award 2014
– National Chrysalis Award – Regional Champion Northeast 2014
– Design National Champion – Best Product Presentation
– Owens Corning Presidents Club
– Winner National Pinnacle Award – Ranked #2 Nationally
– Salesman of the year
– Superstorm Sandy Award
Favorite Project:
Greg's favorite project by far and wide was the creation of an "Irish bar and wine room." A room dedicated for work and storage, with multiple entrances, became a free flowing, open floor plan.
The client was extremely open minded to creating a space that was fun and multi-purpose. With great planning, we designed a distressed cherry cabinetry with palisters, a quartz counter top "no sheen" which looks like stone, a foe-distressed brick full wall backsplash and porcelain distressed wood plank tile for the bar area. The tile we used for the wine room was a distressed barn yard look that was randomly placed with no consecutive color. This space also included wide moldings that accented the pass through and a true period industrial rubbed bronze metal look for the lighting.
Featured Project:
10 Day Kitchen – Riverhead, NY
Click Here To View More Of Gregory's Work
Alure Online
Specials
View A Complete List Of Our Specials
Some restrictions apply, click the button below for more details.