Top-of-the-Line Replacement Windows for Homes Across Nassau County, NY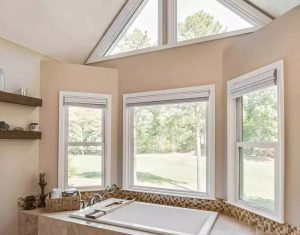 Do the windows on your home need to be replaced? If so, you can rely on Alure Home Improvements to complete the installation with precision and professionalism. We're a respected home remodeling company that's been serving customers for more than 75 years, and we proudly install MaxSeries replacement windows at homes across Nassau County, New York.
State-of-the-Art Features
When you entrust your window installation project to the experts at Alure, you can look forward to receiving a first-rate product. That's because MaxSeries replacement windows are incredibly durable—so durable, in fact, that you can feel confident that your new windows will continue performing and looking great well into the future. They're constructed with Ultrex® fiberglass, which is eight times stronger than vinyl, and they come with a fade-resistant acrylic finish as well as a full glass breakage warranty.
Our replacement windows are also highly energy efficient, making them perfect for homeowners looking to reduce their household energy consumption. Their Ultrex fiberglass frames are specially engineered to resist expanding and contracting, so they'll maintain a tight fit throughout the year, in spite of changing weather conditions. We also offer multiple energy-efficient glass choices, so you can select the option that's best suited to your needs.
So Many Styles to Choose From
At Alure, we take pride in supplying our customers with exactly what they need. No matter what type of window you're looking to have installed, we're sure to have it available. We carry replacement windows in the following styles:
Awning
Bay
Bow
Casement
Double-hung
Round top
Single-hung
Slider
Special shape
And to provide you with a full customization experience, we also offer a variety of exterior and interior finishes, grille patterns, decorative glass designs, and hardware finishes.
For More Information
If you'd like to know more about the replacement windows we have available for homeowners in Nassau County, NY, contact Alure Home Improvements today. Our knowledgeable team can tell you more about our company and the windows we carry, answer any questions you may have, and schedule your free consultation.
Alure Online
Specials
View A Complete List Of Our Specials
Some restrictions apply, click the button below for more details.