Kitchen Remodeling Professionals Serving Lindenhurst, NY & the Surrounding Area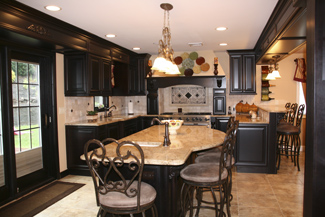 If you live in Lindenhurst, New York, and you're thinking about remodeling your kitchen, put your trust in the professionals at Alure Home Improvements. As a full-service home remodeler with many decades of experience meeting the kitchen remodeling needs of homeowners across Long Island, we are here to help. Whether you recently moved into a new home and are eager to gut the kitchen and start from scratch, or you're finally ready to invest in the dream kitchen you've always wanted in your family home, look no further.
One of the biggest advantages to working with Alure Home Improvements is that we have a staff of full-time employees who are experts in every aspect of kitchen remodeling – from the initial design phase through the completion of the project. By handling all of the work in-house, we're able to save you time and money, while providing assurances on the quality of our work. For instance, here are just a few examples of the types of remodeling professionals at Alure:
Certified Kitchen Designers (CKD): These designers are the best in the business. In order to achieve the illustrious CKD title, the professional must have extensive firsthand experience in the industry, demonstrate their expansive knowledge on kitchen remodeling, and pass a series of standardized tests. By working with a CKD, you can rest assured you'll have access to a wealth of knowledge and the remodeler will be able to help you create a gorgeous and practical kitchen.
Space planners: We have individuals who can help you optimize the layout of your kitchen to improve flow, save space, upgrade storage, and take full advantage of the kitchen area.
Interior decorators: Our team of decorators are well-versed in the latest trends in kitchen remodeling but are also experts in timeless decor, ensuring we can help you design the kitchen that best exudes your personal style and meets your aesthetic preferences.
Above all else, we want to make sure that you're thrilled with your newly remodeled kitchen. Our team is standing by to answer your questions and assist you through the process. Whether you know exactly what you want out of your kitchen or you're eager to rely on our expertise, we want to work with you. Contact us today for more information about the kitchen remodeling services we offer in Lindenhurst, NY.
Alure Online
Specials
View A Complete List Of Our Specials
Some restrictions apply, click the button below for more details.