Kitchen Lighting Options Available from Alure Home Improvements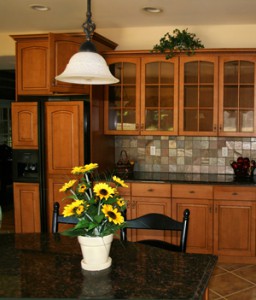 As one of the Certified Kitchen Designers at Alure Home Improvements can explain, you have all sorts of lighting options to choose from when you set out to remodel your kitchen. Whether you're interested in improving the natural lighting in your kitchen with additional windows or you would like to invest in gorgeous ceiling fixtures to illuminate your kitchen, our team of experienced associates will be glad to assist you in finding the perfect solution.
Ultimately, deciding on the right kind of lighting for your kitchen is a matter of personal preference. However, we also understand that remodeling a kitchen is a big job and we staff a team of highly experienced and knowledgeable professionals who will gladly walk you through your options and help make the process as easy and fun as possible.
Depending on the size and layout of your kitchen, you'll have several different lighting options to choose from, including:
Fluorescent lighting
Ceiling fixtures
Cabinet lighting
Chandeliers
Recessed lighting
Track lighting
Pendant lighting
And more
One of the best parts about working with Alure Home Improvements is that we have extensive experience handling every aspect of your kitchen remodeling job. This means that our kitchen remodeler team will be able to handle all of the electrical work that is needed to handle new lighting. What's more, if you decide that you'd like to install brand new energy efficient vinyl windows or a skylight in the roof, we can handle the job. We'll even help design the kitchen layout and secure all of the necessary permits for construction.
If you are considering remodeling your kitchen, it pays to take the time to explore your various lighting options. Each style has its own advantages, both aesthetically and practically, so you'll want to work with experts who you can rely on to help you find the perfect lighting for your home.
To learn more, contact Alure Home Improvements and schedule a consultation or stop by our conveniently located showroom in East Meadow, New York.
Extra 5% Savings + 25% off Install!
For a limited time only, save and extra 5% on your project PLUS 25% off Install AND NO money down, NO payments, NO interest for 18 Months* - Act now! *SUBJECT TO CREDIT APPROVAL. Offers are for the stated time period only and may not be combined with any other offers, promotions or discounts. Some restrictions apply. Offer not applicable in all counties due to Consumer Affairs Restrictions. Offer not applicable in or to residents of New York City.