Our Kitchen Remodel Services Can Refresh the Heart of Your Merrick, NY, Home
If you love to cook, the kitchen is a place where you can find endless inspiration. But if your kitchen itself has seen better days, it can be tricky to find the creativity and energy you need to make a memorable meal for the family. Luckily, there is a way to bring the zest back to your Merrick, New York, home's kitchen: Alure Home Improvements' kitchen remodel services. From floor to ceiling, our team of expert kitchen remodelers can completely transform your space in as little as 10 days.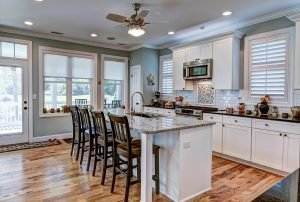 Kitchen Remodeling Services
Alure Home Improvements is the name to know when you want to bring new life to your home with a kitchen remodel. Our team can rejuvenate your kitchen with:
Cabinets, countertops, and islands
Sinks and accessories
Custom backsplashes
Flooring
Lighting and electrical work
Plumbing
Layout reconfiguration
No matter what your needs are, we're the local kitchen remodel contractor that can meet them. Do you want a full-scale kitchen remodel? We're the team to call. Do you need your kitchen back quickly? We have a 10-day program that yields stunning results within a short timeline. Do you need your kitchen to better accommodate someone with limited mobility? Our ADA-certified design team knows exactly how to make a more accessible kitchen. And no matter which kitchen remodel services we complete for you, our work will be backed by generous warranties.
Transform Your Kitchen Today
Ready to breathe new life into your Merrick, NY, home's kitchen? Reach out to Alure Home Improvements today to schedule a free kitchen remodel consultation and get started.
Alure Online
Specials
View A Complete List Of Our Specials
Some restrictions apply, click the button below for more details.