Kitchen Layouts – Suffolk
Beautiful Kitchen Layouts for Homes in Commack, Huntington, Smithtown, Throughout Suffolk County & Long Island, New York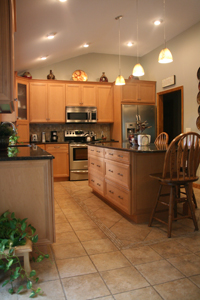 The kitchen layouts that our design team can create for homeowners in Suffolk County are a big advantage to working with Alure Home Improvements. Our professional staff utilizes state-of-the-art design software, which allows us to render a three-dimensional image of the kitchen, offering the homeowner an unparalleled view of what their new kitchen will look like after the remodel is done. This visual representation is extremely important because it helps to ensure that everyone is on the same page and allows the homeowner to rest assured that their new kitchen will meet their needs and expectations.
The team at Alure Home Improvements can handle every aspect of the kitchen remodeling process in-house, from creating beautiful kitchen layouts and designs to securing necessary construction permits and handling the completion of the project. Plus, our staff is extremely well-versed in the latest kitchen design trends and guidelines, and is more than happy to help assist in designing a modern, attractive kitchen that will fit comfortably in the floor plan and best serve the homeowner.
Just a few examples of popular trends in kitchen layouts include:
Beverage stations, This can include an undercounter refrigerator, wine refrigerator, coffee station, espresso and cappuccino makers, and a full bar area.
Bold colors, Vibrant colors can be brought to life with the right lighting, while different wood tones, appliance colors, and sharp contrasts can make the kitchen seem unique and distinct.
Concealed kitchens, A kitchen integrated into the home's primary living room can perfectly complement the home's layout and provide additional living space. An integrated kitchen with concealed appliances is understated and attractive.
Height variation, Countertops, tables, and walls can be constructed at different heights for task specific needs, such as a lower table in a breakfast nook or higher seating at a bar or island.
The best way to explore the various kitchen layouts available is to contact us and schedule a consultation with one of our representatives. As a full-service home remodeling company, we have the firsthand experience, training, and manpower to help you build the custom kitchen of your dreams in Suffolk County. We also offer several other home remodeling services, such as bathroom remodeling, basement finishing, and more.
Extra 5% Savings + 25% off Install!
For a limited time only, save and extra 5% on your project PLUS 25% off Install AND NO money down, NO payments, NO interest for 18 Months* - Act now! *SUBJECT TO CREDIT APPROVAL. Offers are for the stated time period only and may not be combined with any other offers, promotions or discounts. Some restrictions apply. Offer not applicable in all counties due to Consumer Affairs Restrictions. Offer not applicable in or to residents of New York City.