Create the Perfect Kitchen Design for Your Home in Hicksville, NY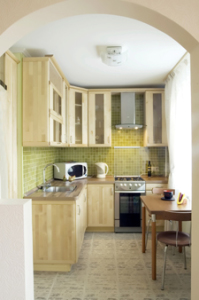 Do you need help creating the ideal kitchen design for your home in Hicksville, New York? If so, put your trust in the team at Alure Home Improvements. We are a full-service home remodeling company with decades of experience helping local area homeowners create the kitchens of their dreams. Our team knows what it takes to design a kitchen that not only looks great but has the built-in features that you'll want, so you can rest assured that when you stop by Alure Home Improvements, you'll work with professionals who have your best interests at heart.
Make no mistake about it; the kitchen design process is extremely important. After all, if you're in love with your kitchen design proposal, you'll undoubtedly be eager to get the project started. By taking the time to explore all of your options and develop the right design for your home, you can rest assured that the finished product will leave you absolutely thrilled. At Alure Home Improvements, we understand how important this design process is, which is why our dedicated professionals work tirelessly with our homeowners to get it right long before our talented team arrives to complete the project.
Some of the questions you'll likely be asked during this design consultation process include:
What are your style preferences? Where some people prefer classic colors and designs, others are always searching for the latest trend. There's no right or wrong answer when it comes to style, it's just a matter of selecting the option you like best.
How do you intend to use your kitchen? If you're a burgeoning chef, you might enjoy a kitchen that is optimized around food preparation, with the sink, refrigerator, storage, and food prep areas all located at arm's length.
Would you like to dine in your kitchen? If so, you might consider adding a kitchen island or other seating options for a quick meal.
What features would you like in your kitchen? We offer countless combinations of flooring, cabinetry, and countertops.
Are your storage needs being met? While space is often at a premium, there are usually ways to upgrade storage options in the kitchen.
With the answers to these questions and more, our kitchen design team can create a plan that is right for your home. To learn more about this process and explore your kitchen remodeling options in Hicksville, NY, contact us today.
Alure Online
Specials
View A Complete List Of Our Specials
Some restrictions apply, click the button below for more details.