Kitchen Countertops Installed in Commack, NY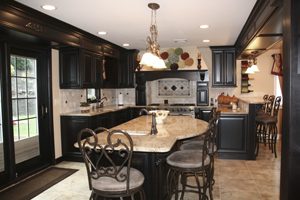 At Alure Home Improvements, our highly trained, dedicated team of remodelers installs a variety of different kitchen countertops in the Commack, New York, region. We have extensive experience handling kitchen remodels of all sizes and styles, and we will gladly work closely with you to help you design the kitchen of your dreams – and that starts by selecting one of our kitchen countertops. No matter your style preference or the design of your kitchen, we have the countertop that's right for your unique home.
The countertops of your kitchen are often one of the first things that people notice when they visit your home for the first time. That's why it's so important to select a style of countertop that looks great, complements the décor of the room, and exudes your sense of style. Furthermore, the material that you choose makes a big difference. Here are some advantages to the various types of kitchen countertops that we install in Commack, NY:
Quartz – Quartz countertops resist scratches and stains and are pre-sealed to prohibit bacteria growth.
Granite – Granite countertops are gorgeous, instantly recognizable, and unique since they are naturally made and cut from quarries.
Laminate – Laminate countertops are very different now than what you are used to. They come in a variety of designs, mimicking the look of granite and quartz.
In addition to the various kitchen countertops we install, our team can also handle every other aspect of your kitchen remodel from start to finish. When you want to gut and remodel your kitchen, look no further than Alure Home Improvements. Since 1946, we have helped local area homeowners in Commack, NY, and the surrounding area meet their home remodeling needs. To learn more, contact us today.
Alure Online
Specials
View A Complete List Of Our Specials
Some restrictions apply, click the button below for more details.