Gorgeous Kitchen Cabinets Installed in Huntington, NY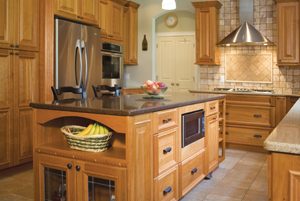 If you need help choosing the right kitchen cabinets for your home in Huntington, New York, the team at Alure Home Improvements is here for you. As a full-service home remodeler with extensive experience remodeling kitchens throughout the area, we know what it takes to choose the perfect kitchen cabinets for any home. When the time comes to make a change, put your trust in our dedicated kitchen remodelers. We'll work closely with you to design a kitchen that fully meets your needs and has the features you've always wanted.
A Range of Cabinet Options for Outstanding Kitchen Design
At Alure Home Improvements, it is our goal to offer you options when it comes to your kitchen remodel. Rather than taking a one-size-fits-all approach, we work hard to ensure we have a tremendous variety of choices to help you design the unique kitchen of your dreams. We understand how important kitchen cabinets are in any home, and to help ensure we can accommodate your exact needs and wants, we offer many different:
Styles
Mounts
Color options
Handles and hardware
Finishes
Sizes
Materials
Let Our Professional Kitchen Designers Help You
One of the biggest home improvement decisions to make is choosing your kitchen cabinets. Kitchen cabinets will define your storage space, as will the cohesiveness and design of the room. With Alure as your remodeling partner, you'll find the selection process not only less stressful, but also more exciting and, ultimately, deeply rewarding.
Whether you want traditional wood kitchen cabinets or a more modern open feel to your kitchen, we've got you covered. Our Certified Kitchen Designers are extremely knowledgeable about the latest trends in home remodeling as well as the classic design choices, and we are committed to working with you to ensure your newly finished kitchen exudes your personal sense of style. By taking the time to explore your options with one of our designers, you'll be able to find the ideal type of cabinets for your kitchen, one that suits your aesthetic preference, complements the space, and fits your budget. Many homeowners find that wood cabinets, in the color, texture, and grain they prefer, satisfy all of their kitchen design criteria. Here are just a few the most popular types of wood that Huntington homeowners use for cabinetry:
Maple – A classic choice that's highly durable and maintains a light appearance.
Birch – A smooth, light-colored hardwood that's extremely versatile.
Oak – A heavy wood that stains beautifully to lend timeless appeal.
Cherry – A gorgeous option that maintains a luxurious aesthetic as it ages.
Custom Kitchen Remodeling Done Right
As with material options, choosing your cabinet style goes a long way toward achieving the kitchen redesign you envision. Do you want American-style cabinets, which are framed, or do like frameless European-style options? And which would be better suited to your new kitchen? Our team can help you answer those questions. We can also fine-tune your remodeling project with just the level of customization necessary to meet all your functionality and design goals. Our space planners can help you optimize the layout of your cabinets and drawers, potentially providing you with extra storage space.
Comprehensive Kitchen Remodeling Services
As a full-service kitchen remodeler, we recognize that your kitchen isn't just a place to prepare meals; it is the heart of your home. That's why we offer the skills and products to handle every aspect of your next improvement project from start to finish. Beyond installing cabinets, our team can also improve the layout of the room, install new floors and countertops, upgrade the lighting, expand the living space, add a breakfast nook or an island and much more. No job is too big or small for our team to handle. To learn more about the remodeling services we offer in Huntington, NY, contact us today.
Alure Online
Specials
View A Complete List Of Our Specials
Some restrictions apply, click the button below for more details.