Double-Hung Windows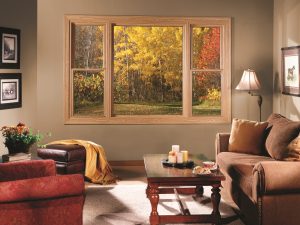 UltraShield double-hung windows beautifully bring form and function together. Where others see double-hung windows as their "standard" window, we've designed our windows to be extraordinary.
Our double-contoured, narrow-line exterior mainframe adds striking curb appeal to your home, while exclusive mortised locks and wood-style coved trim around the glass create the combination of beauty and craftsmanship.
When compared to our competitors, the greater viewing area of our windows lets you enjoy more of the beauty of every season.
Features:
Minimal maintenance and easy operation with tilt-in feature, contoured lift-rails and pre-tensioned, dual pulley block and tackle balance system
Advanced, triple weatherstripping seals for top efficiency performance
Polyurethane window frame insulation provides added comfort and the ultimate in energy efficiency
Coved interior glazing bead for added elegance
Added security with recessed pick-resistant locks
Extruded aluminum screen frame with heavy-duty aluminum corner reinforcements for years of worry-free performance
Superior sound reduction and 99.5%+ UV protection with the Heat Mirror glass options
Both sashes of UltraSheild double-hung windows tilt into the home, allowing for easy cleaning
All feature the beauty of our double-contoured, narrow-line window design
Provides greater viewing area for inside your home, while allowing up to 30% more daylight inside

Get 10% Off Each Window
For a limited time only, take 10% off each window when you buy five or more - Act now!
Expires 03/31/2021. Minimum purchase of five windows; Offers are for the stated time period only and may not be combined with any other offers, promotions or discounts. Some restrictions apply. Offer not applicable in all counties due to Consumer Affairs Restrictions. Offer not applicable in or to residents of New York City. *Call for details on scheduling the imaging session.