Small Bathroom Ideas for Your Home in Westbury, NY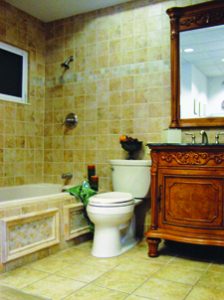 At Alure Home Improvements, our team has all sorts of small bathroom ideas for your home in Westbury, NY. If you've got a smaller bathroom in your home that doesn't quite meet your needs and you're thinking about making a change, we will be glad to help. Our highly trained team of dedicated bathroom remodelers has extensive experience remodeling bathrooms of all sizes and styles, and we are standing by to work with you to design a bathroom that you'll surely love. You might be surprised how much we can do to the bathrooms of your home.
If you're taking time to think of ideas for upgrading a small bathroom, one of your top priorities is probably increased storage space. While space may be at a premium, there are always ways to take better advantage of the space that's available. For instance, many homeowners elect to integrate drawers and shelves in areas like below the sink or even above the door. Other people elect to modify the space they already have by replacing a little used cabinet with more practical shelving. Installing a johnny cabinet above your toilet can help to increase your storage space without changing the footprint of your bathroom. Shelves concealed behind mirrors within the walls are also quite popular.
Some other small bathroom ideas to consider for your Westbury, NY, home include:
Tub to shower conversion, If your bathtub takes up a lot of space and you really never take a sit-down bath to begin with, installing a shower in its place can make good sense. Showers, generally, take up much less space than bathtubs, giving much-needed extra room in the room.
Improve the lighting, Sometimes, something as simple as allowing in extra natural light can make a room seem bigger than it really is. Incorporating mirrors into the design can also make a room feel larger.
Upgrade the look and feel of the room, While your bathroom might be small, if you love its design, it doesn't really matter. By installing gorgeous new countertops, cabinetry, and flooring, and making other upgrades to the room, you'll focus more on how attractive the room is and less on your limited floor space.
For more small bathroom ideas and information about the bathroom remodeling services we offer in Westbury, NY contact us today.
Alure Online
Specials
View A Complete List Of Our Specials
Some restrictions apply, click the button below for more details.