All-Inclusive Bathroom Remodeling Services for Locals Around Wantagh, NY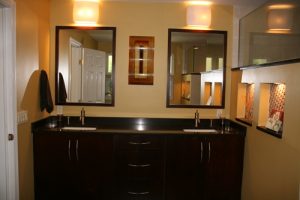 If your home in Wantagh, New York needs a new bathroom, you're in the right place. Alure Home Improvements has provided unmatched bathroom remodeling services for New Yorkers since our founding in 1946. We never fail to deliver excellent results and leave our clients satisfied. Partner with us today!
The Top Bathroom Remodel Contractors
At Alure Home Improvements, we offer several types of bathroom remodeling services:
5-Day bathroom remodels – Our comprehensive and timely 5-day bathroom remodels are the perfect choice for homeowners who are under time constraints or only have one bathroom in their home. Our talented team will work to renovate your bathroom exactly to your liking in just one work week.
One-Day bathroom remodels – Our one-day bathroom remodels are the fastest possible way to upgrade your space. We'll complete your project in record time but still guarantee superb results.
Custom bathroom remodels – As full-service bathroom remodelers, we are equipped to manage projects of any scope. Plus, we offer extensive personalization options to help you create the perfect custom bathroom design. No matter how big or detailed of a project you want completed, we can help!
Turn to the Bathroom Remodeling Experts
When you turn to Alure Home Improvements, you can be sure that any bathroom remodeling project you undertake will be completed with excellence. We offer the greatest possible customer service and proudly go above and beyond in every job we work on. If you're ready to get started on your bathroom remodeling project, contact us today and start planning a custom bathroom remodel for your Wantagh, NY home.
Alure Online
Specials
View A Complete List Of Our Specials
Some restrictions apply, click the button below for more details.