Bathroom Remodeling Services in Oceanside, Valley Stream, Bellmore, Throughout Nassau County & Across Long Island, New York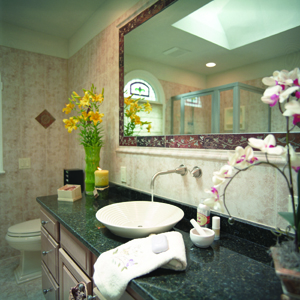 When it comes to bathroom remodeling, homeowners in Valley Stream, Bellmore, Oceanside, and all across Nassau County know to put their trust in Alure Home Improvements. Since we first opened our doors in 1946, we have proudly helped local area homeowners with their various bathroom remodeling projects, and it is because of this experience that we can confidently say that our team can handle your next bathroom remodel. Our dedicated professionals are experts in their craft and are standing by to help you design a bathroom that looks great, is practical, and complements the layout of your home. It's this attention to detail and commitment to customer service that led us to being featured on ABC's hit show, Extreme Makeover: Home Edition.
Above all else, we want to make the remodeling process as easy on you as possible, which is one of the reasons that we developed our EXTREME 5-Day bathroom remodeling program. The benefits to this option include:
The entire project from start to finish is completed in only five days (or less), which helps limit any interruption in your regular routine. Plus, this is an excellent option if you only have one bathroom in your home.
This service is designed for homeowners who don't need any walls or fixtures moved but are interested in a complete gut and remodel of their bathroom.
This service tends to be more affordable on average than other bathroom remodeling services because it is completed quickly, limiting labor costs.
This isn't to say that our EXTREME 5-Day service is your only option, however. Our team is equipped to handle bathroom remodels of all sizes, so if you want to expand the footprint, move fixtures, and have a whole new bathroom put in, we can do that too. When you turn to Alure Home Improvements, you'll have access to interior decorators, space planners, plumbers, electricians, and all sorts of other professionals who can help you with your project. To learn more about the bathroom remodeling services that we offer in Nassau County, NY, contact us today.
Extra 5% Savings + 50% off Install!
For a limited time only, save and extra 5% on your project PLUS 50% off Install AND NO money down, NO payments, NO interest for 18 Months* - Act now! *SUBJECT TO CREDIT APPROVAL. Offers are for the stated time period only and may not be combined with any other offers, promotions or discounts. Some restrictions apply. Offer not applicable in all counties due to Consumer Affairs Restrictions. Offer not applicable in or to residents of New York City.