Bathroom Remodeling in Your Levittown Home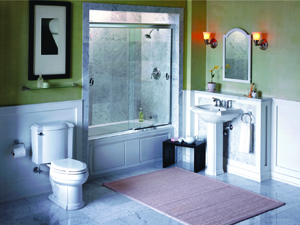 If you're considering remodeling the bathroom in your Levittown home, turn to the team at Alure Home Improvements. Our fully licensed and insured bathroom remodelers are highly experienced and have the expertise needed to help you design the perfect bathroom for your home. Our bathroom remodeling service is designed to be as easy on the homeowner as possible, and we go to great lengths to exceed your expectations by offering a tremendous selection of top-quality, name-brand materials.
At Alure Home Improvements, we offer two main bathroom remodeling services for you to consider:
5-Day Bathroom Remodeling, Perfect for the homeowner who likes the space and layout of their bathroom but could use more storage or would like to upgrade the look and feel of the bathroom. In just five days, our team can completely rejuvenate the bathroom without knocking down any walls or changing the overall footprint of the room.
Custom bathroom remodeling, One of the benefits to working with Alure Home Improvements is that our team of home remodelers can handle even the most involved construction projects. If you're ready to completely gut and remodel your bathroom, knock down walls, move fixtures, and design the bathroom of your dreams, we can help. We'll manage everything from the initial design plan and securing the necessary work permits through the completion of the remodel, keeping you involved every step of the way.
Deciding to remodel your bathroom is a big decision, but we work tirelessly to make you completely comfortable with the process. We maintain a gorgeous, three -story showroom in East Meadow, New York, where you can explore the various materials and products that we offer. And, our design team will work closely with you to make sure that your new bathroom will not only look great, but also meet all of your practical needs.
To learn more about the specific advantages to remodeling the bathroom in your Levittown home, contact us today. We also offer a tremendous variety of additional home remodeling services in the area, including basement finishing, kitchen remodeling, siding installation, and more.
Extra 5% Savings + 50% off Install!
For a limited time only, save and extra 5% on your project PLUS 50% off Install AND NO money down, NO payments, NO interest for 18 Months* - Act now! *SUBJECT TO CREDIT APPROVAL. Offers are for the stated time period only and may not be combined with any other offers, promotions or discounts. Some restrictions apply. Offer not applicable in all counties due to Consumer Affairs Restrictions. Offer not applicable in or to residents of New York City.