How to Pick the Perfect Cabinets for Your Bathroom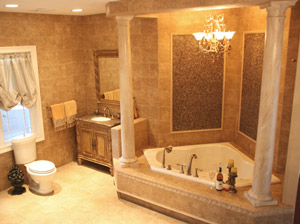 One of the most dramatic ways that you can immediately upgrade the look and feel of a bathroom is by investing in brand new cabinets. Yet, as you'll discover when you start to dig deeper into new potential cabinetry for your home, there are all sorts of options at your disposal, so it is only natural if you are feeling a little overwhelmed trying to find the perfect color, style, and material for your cabinets. Fortunately, when you take a step back and do some research into your options, you'll see that selecting the ideal cabinets for your home can be a fun and exciting process.
Here are some tips for things to consider when shopping your options:
Weigh the pros and cons of custom cabinetry ­"" Having custom cabinetry made for your home is an awesome way to get exactly what you want out of your cabinets, but this is also more expensive than buying stock cabinetry and can also require much more forethought and hard work to create the cabinet layout. An alternative is to turn to semi-custom cabinets, which are made to your size requirements but come with manufacturers' features and increments.
Listen to an interior decorator, Obviously the choice is ultimately yours, but a professional may be able to provide the unique perspective that you lack. For instance, they can help you choose the door style or wood type that is modern and trendy or more traditional and classic. This is also a good way to make sure that your new cabinets complement the décor of the room in which they're installed.
Play around with hardware options, Make no mistake, the knobs, handles, and hinges that you choose can make a big difference on your cabinets. Fortunately, most home improvement companies will give you a whole wide selection of options to look at. Of course, you'll want to make sure that your hardware matches the type of cabinets you have in mind, but ultimately this is your opportunity to find the options that exude your personal style.
At the end of the day, you're in charge. Replacing your cabinetry shouldn't be stressful and you should take your time until you find the type of cabinets that are a perfect fit for your home. To learn more about all of your options and to work with a talented bathroom remodeling professional, contact Alure Home Improvements today.
Alure Online
Specials
View A Complete List Of Our Specials
Some restrictions apply, click the button below for more details.