A Bathroom Remodel Can Refresh Your Oyster Bay, NY, Home's Bathing Space & Much More
Your home's bathroom is a place where you want to feel refreshed after a long day or recharge to start one. But if all you can think about is how the room has become a dud, Alure Home Improvements is here to help you focus on the suds again. Our bathroom remodeling services breathe new life into dingy, outdated bathrooms in Oyster Bay, New York, homes. No matter what your remodeling goals are, we have the skill and the products to turn your dream bathroom into a reality!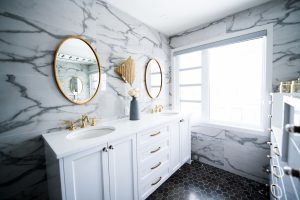 Remodeling Bathrooms From Floor to Ceiling
The sky is the limit when Alure Home Improvements is handling your bathroom remodel. You can turn to us for a wide variety of upgrades and alterations, such as:
Bathtub and shower replacement
Sink and faucet installation
New cabinets and countertops
Toilet installation
Adding mirrors
Backsplash design and installation
Lighting and flooring
Bathroom layout changes and size increases
Working With Your Needs in Mind
We don't just pride ourselves on the types of bathroom remodels we offer. Alure Home Improvements is also proud to be able to accommodate a wide variety of customer needs. Do you need a new bathroom in a short time? Our bathroom remodelers can follow a five-day program that can lead to gorgeous results in less than a week. Are you or a loved one in your home living with limited mobility? Our design team is ADA-certified and can create a space that makes using the bathroom far easier. Remodeling on a budget? We'll help you find the best solutions for your spending limits and give you a pricing estimate accurate to the penny.
Let Alure Handle Your Bathroom Remodel
Now that you're found Alure Home Improvements, your search for reliable bathroom remodeling contractors serving Oyster Bay, NY, can come to an end. Contact us today to schedule your free consultation.
Alure Online
Specials
View A Complete List Of Our Specials
Some restrictions apply, click the button below for more details.