Alure Home Improvements: Turning Bathroom Design Ideas into Reality in Homes in Floral Park, Glendale, Cambria Heights & Across Queens County, New York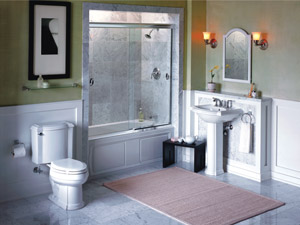 If you are looking to turn your bathroom design ideas into a reality, look no further than the professional team at Alure Home Improvements. Since 1946, we have met the bathroom remodeling needs of homeowners from Glendale and Cambria Heights to Floral Park and Douglaston in Queens County, New York. Our team of highly experienced and trained professionals knows what it takes to handle your next bathroom remodel on time and on budget and we will work closely with you to design the dream bathroom you've always wanted for your home.
As a full-service bathroom remodeling company, we have firsthand experience taking even the most unique bathroom design ideas and creating living space that the homeowner will love. The bathroom is a very personal part of the house and our team wants to make sure that you are completely comfortable with every aspect of the room, from top to bottom. To that end, our team will be happy to install:
Bathtubs, showers, and walk in tubs
Lighting fixtures and replacement windows
Custom flooring options
Unique storage solutions
Fans, vents, and other ventilation options
And so much more
When you bring your bathroom remodeling ideas to Alure Home Improvements, you'll be able to choose from two marquee remodeling services. Perhaps you like the layout of your bathroom and don't need any walls or fixtures moved but you're otherwise interested in a full gut and remodel. If so, our 5-Day Extreme Bathroom Remodeling Service is for you. Or maybe you're ready to make major changes, want to blow out walls, move things around, and truly design your dream bathroom. In this case, our custom bathroom remodeling service is a great choice. No job is too big or small.
To learn how we can use your bathroom design ideas to create a living space that will exceed your expectations, contact us today. We proudly serve homeowners throughout Long Island, NY, and beyond.
FREE 5FT Tub Sliding Door With Your Complete Bathroom Remodel
For a limited time only, get a FREE 5FT Tub Sliding Door with your Complete Bathroom Remodel PLUS NO money down, NO payments, NO interest for 18 Months* - Act now! *SUBJECT TO CREDIT APPROVAL. Offers are for the stated time period only and may not be combined with any other offers, promotions or discounts. Some restrictions apply. Offer not applicable in all counties due to Consumer Affairs Restrictions. Offer not applicable in or to residents of New York City.