Bathroom Remodels Completed in Syosset, NY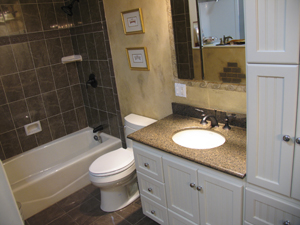 At Alure Home Improvements, we have extensive experience completing bathroom remodels in Syosset, New York. Our dedicated bathroom remodelers are committed to working with local homeowners to design bathrooms that not only look great but also have the practical touches that you'd expect from a custom, remodeled bathroom. Whether you know exactly what you want done to your bathroom or you're eager to work with a design specialist to create a beautiful new room in your home, we will be more than happy to help.
When it comes to bathroom remodels, we have made a name for ourselves by offering custom solutions. One size doesn't fit all, in our opinion, and we take the time to work with the homeowner to design a bathroom that complements the décor of the home, has the built-in features that they need, and has a floor plan that makes best use of the available space. Once a design plan is agreed to, our team of full-time bathroom remodelers gets to work, and we even offer a 5-Day EXTREME bathroom remodeling service for homeowners who are interested in a full gut and remodel but don't need any fixtures or walls moved. This is an especially great option for homeowners with only one bathroom who want to limit interruption to their daily routines. Of course, we also offer custom bathroom remodels if you'd like to knock down walls, change the location of your fixtures, and start from scratch.
Some of the other advantages to our bathroom remodels include:
We offer top-quality products from some of the leading names in the industry, including Kohler, Moen, and more.
We have a wide array of products and materials to choose from in our East Meadow showroom, allowing you to design a bathroom that exudes your personal style.
We can help you secure financing to make the remodeling process as affordable as possible.
To learn more about the various bathroom remodels we've completed throughout Syosset, New York, and for additional information about our remodeling service, contact Alure Home Improvements today.
FREE 5FT Tub Sliding Door With Your Complete Bathroom Remodel
For a limited time only, get a FREE 5FT Tub Sliding Door with your Complete Bathroom Remodel PLUS NO money down, NO payments, NO interest for 18 Months* - Act now! *SUBJECT TO CREDIT APPROVAL. Offers are for the stated time period only and may not be combined with any other offers, promotions or discounts. Some restrictions apply. Offer not applicable in all counties due to Consumer Affairs Restrictions. Offer not applicable in or to residents of New York City.