Consider a Bathroom Renovation for Your Home in Lindenhurst, NY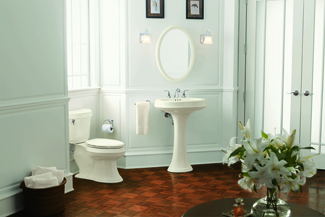 Investing in a bathroom renovation for your Lindenhurst, New York, home is a great option if your bathroom has seen better days. There are few things that can take away from the beauty and character of a home quite like an old, outdated bathroom can, but at Alure Home Improvements, we offer a solution. If you are interested in designing a gorgeous new bathroom that will add value to your home and better meet your needs, turn to our bathroom remodeling professionals.
Since 1946, Alure has built a reputation on our ability to handle bathroom renovation projects of any size and scope. When it comes to bathroom remodeling, our staff of professional, full-time remodelers are leaders in the industry and have the expertise needed to completely transform your bathroom – whether you're looking for an aesthetic upgrade or want to make wholesale changes to the layout of the room. For instance, here are a few of the ways we might be able to help with your bathroom renovation. Our team can:
Adjust the floor plan of the bathroom to better suit your needs
Improve the safety of the room with a walk in tub or tub to shower conversion
Improve the ventilation of the bathroom
Replace the countertops, cabinetry, and flooring
Improve the overall lighting of the bathroom
Upgrade the storage options in the room
Install a gorgeous new sink
Handle any other bathroom upgrade you have in mind
Another benefit to working with Alure Home Improvements is that we can complete many bathroom renovation projects in less time than you thought possible with our 5-Day Extreme Bathroom Remodeling Service. This full gut and remodel is intended for homeowners who don't need any walls or fixtures moved but are ready to make a change in their bathrooms.
The best way to learn more about the bathroom renovation services that we offer in Lindenhurst, NY, is to contact us today or visit our showroom on Long Island. We'll happily explain the many advantages to working with our team, walk you through our various products and materials, and answer any questions that you might have.
Extra 5% Savings + 50% off Install!
For a limited time only, save and extra 5% on your project PLUS 50% off Install AND NO money down, NO payments, NO interest for 18 Months* - Act now! *SUBJECT TO CREDIT APPROVAL. Offers are for the stated time period only and may not be combined with any other offers, promotions or discounts. Some restrictions apply. Offer not applicable in all counties due to Consumer Affairs Restrictions. Offer not applicable in or to residents of New York City.